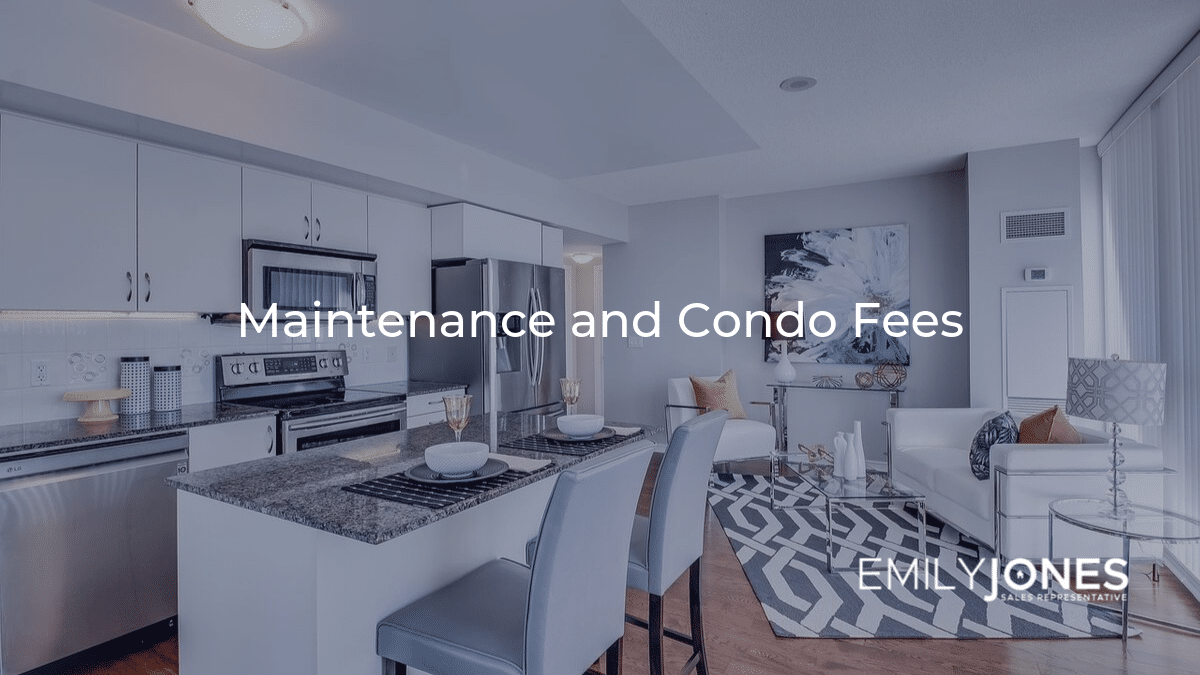 17 Sep

Maintenance and Condo Fees

What are maintenance or condo fees and what do they cover? When you are looking at a condo unit, this should be one of the first questions you ask.

In a condo, the common elements are maintained by a condo corporation. Any costs involved in that maintenance are fairly distributed among the unit owners. This is done through a monthly maintenance fee (aka a condo fee).
What's included in my condo fee?
The type of maintenance required (and the costs that go with it) can be very different depending on the complex. The type of building, age, current condition, and amenities all will impact the maintenance needed.
In a freehold with a road fee, only the private shared road is a part of the condo. So the maintenance costs are quite low as they cover minimal expenses. It would cover things like road maintenance, snow plowing, garbage removal, and/or landscaping of some small common grass areas.
The maintenance fees are often higher in a condo townhouse or a condo apartment. The costs here can range quite a bit based on the complex. Some items that might be included are:
private road maintenance (including snow plowing)
common area maintenance
roofs, windows/exterior doors/garage doors
common amenities (such as a community pool, gym, gazebo, community rec centre, playground)
water, cable TV
private security, etc.
The more amenities you have, the more there is to maintain, and so costs are usually higher.
How do I know for sure what's covered?
This is where a status certificate comes in. Your realtor is an excellent starting point and should be able to give you the information you are looking for. However, a status certificate will officially confirm what is covered by the condo board. In most cases, a buyer will have a lawyer review the status certificate as a condition of the deal.
Why are maintenance fees a good thing?
It doesn't matter what type of home you live in, eventually, big things like roofs and windows need to be replaced. In a freehold home, you need to budget for that day you are going to be hit with a big one-time bill. In a condo, you contribute a little bit each month to go into the reserve fund for those big expenses.
Condo fees ensure you live as maintenance-free as possible and in a way, force you to put money aside for big-ticket repairs.
Who dictates my fees? What if I have concerns about them?
The monthly condo fee is determined by your condo board, property management, and any recommendations from an auditor. Every condo corporation has an account of money held for large repair and renovation work, also known as a reserve fund. An auditor reviews the corporation's finances every couple of years and makes recommendations about if the reserve fund if sufficient. The condo board (made up of homeowners) and property management work closely together to monitor maintenance and costs. They work to ensure that the monthly maintenance fees cover the annual costs and that the reserve fund stays at a healthy level.
If you have concerns about your condo fees, speak to your property manager or board members. You can also get involved with the board directly! Your status certificate will outline how your condo board operates and how board elections work.
For more information about buying a condo, take a look at this Condo Buyer's Guide from Condo Authority Ontario.
Do condo fees impact my pre-approval?
Yes, they certainly do! Your pre-approval amount is based on what you can afford. If you add a $400 maintenance fee to your monthly debt, the bank will want to re-calculate what you can afford. This means your pre-approval amount is likely to change.
It's important to talk to your lender if you think you will look at condos (condo apartments or condo townhouses). Condo fees will impact what your monthly expenses are, and therefore, will impact your overall approval amount. For this reason, ask what you would be approved for once condo fees are taken into account.

Ready to continue the conversation about condos and condo townhouses? Contact me today for a consultation about your real estate goals, and let's start looking!