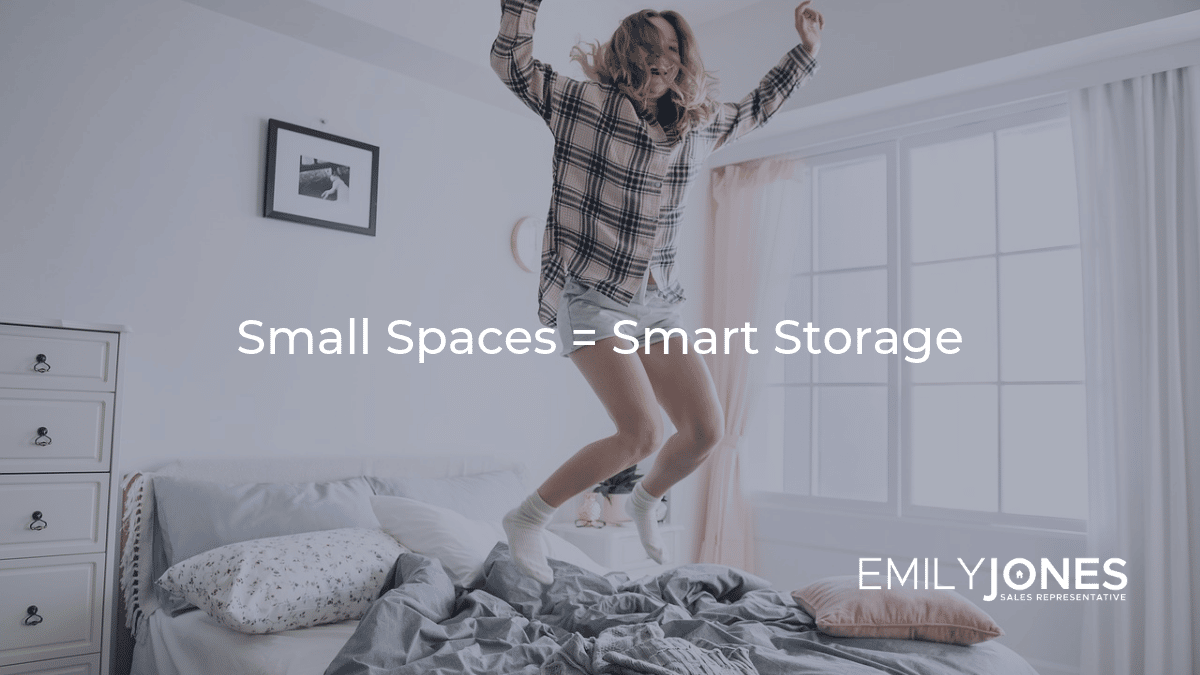 14 May

Small Space Means Smart Storage
SMALL SPACE MEANS SMART STORAGE
As space to build new homes in the GTA becomes more limited and land more expensive, more than ever before first time buyers and young families are turning towards condos and townhouses. That dream of the big house with the fenced yard often has to wait a couple of years. But just because you are compromising on square footage doesn't mean a well-designed small space won't work just as well – all it takes is some smart storage!
Sometimes I have to help my first time buyers envision what their potential space will look like and come up with pre-preemptive solutions to their storage needs.
From the front door to your bedroom closet, here are some of my favourite space-saving tips and items room by room!
In the Living Room
In today's condos, open concept and flex spaces are more common. You likely don't have a guest bedroom, extra closets, a separate dining room, a separate home office – so you have to make your space work for your needs! The best way to do this is to find furniture that offers a dual purpose!
Need storage?
Find a coffee table/end table with space to store things. Whether that means drawers, or a shelf so you can utilize organizational boxes.

Entertain quite a bit? Eat dinner in front of the tv? 
Find an expandable coffee table to accommodate room for all your friends (and the snacks that go with it!)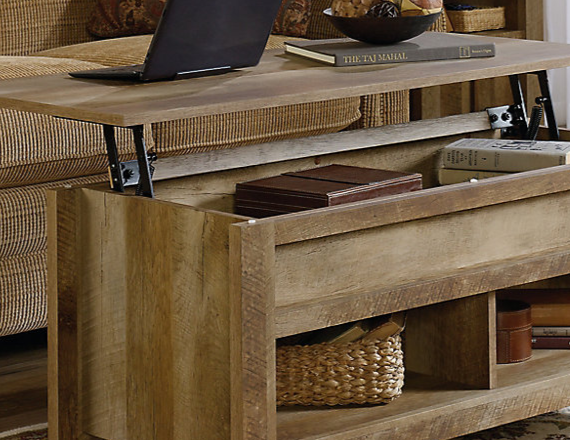 Work from home but don't have space for a desk? 
Try a coffee table with built-in storage and a lid that raises up to desk level! Try the Home Depot Dakota Pass Lift-Top Coffee Table in Craftsman Oak (pictured above).
Love having friends and family stay over, but live in a one-bedroom?
A sofa-bed or a futon can become your best friend! There are some fantastic sofa-bed options out there these days that look great, are comfortable, and offer built-in storage for guest bedding!
In the Kitchen/Dining Room
Tight on space to accommodate a full table?
Consider an island with a drop leaf, an island with seating that fits right into it, or an expandable dining table!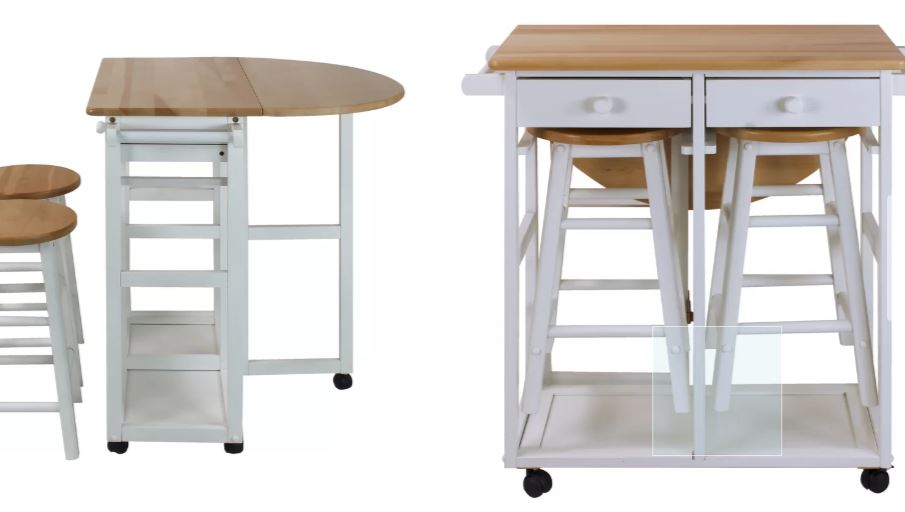 Try the Wayfair Charity 3-Piece Kitchen Island Set (pictured above)
In the Bedroom
It's all about storage in the bedroom. Sometimes you just don't have space for a dresser, a bedside table, or your shoe collection 😉
Roomy closet but poor set up?
Redesign your storage with closet organizers! There are some great options out there that you can install yourself. Alternatively, make use or a dresser inside your closet and add some storage boxes on the shelf above your hanging clothes.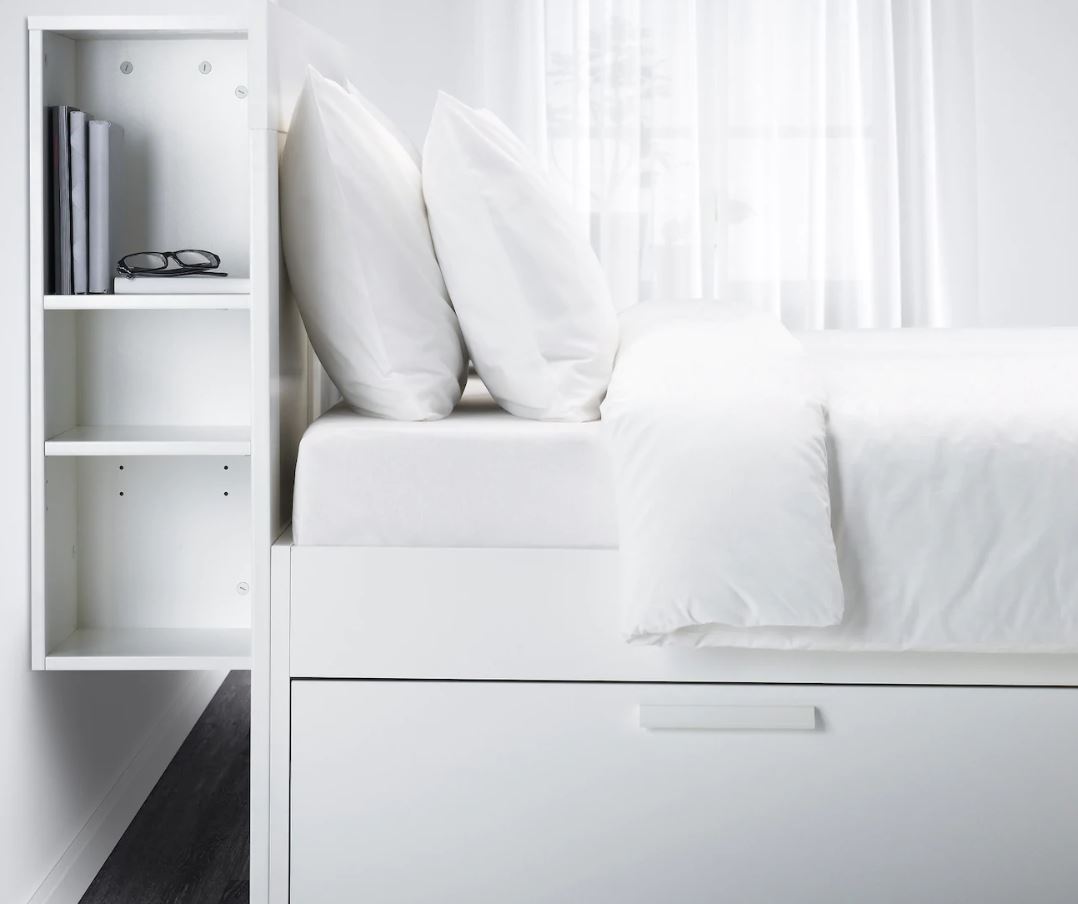 No room for a dresser or bedside table?
Look into a bed frame with under bed storage, a headboard that doubles as a bookshelf, or this fancy one from IKEA that is a combo of the two! Try the IKEA Brimnes (pictured above)
In the Bathroom
Whether you are just missing a linen closet or this is simply the smallest room in your condo, you need to maximize whatever space you have!
Hang a toiletry caddy in the shower instead of leaving toiletries loose around the tub
Install a medicine cabinet mirror with built-in storage instead of just a mirror
Utilize your bathroom door with over the door hooks
Install over the toilet storage! These storage cabinets look great and add a ton of storage to your tiny space.

Try the Canadian Tire: For Living Brookfield Spacesaver (pictured above)
If you are looking for a home in Hamilton, Burlington, Oakville, Milton, Mississauga, or Toronto (regardless of the size!), contact me today for a personal real estate consultation!