06 Jun

Real Estate Market May 2022

Greater Toronto Area (GTA) housing market conditions continued to evolve in response to higher borrowing costs and rising inventory levels. Similar to April results, May 2022 sales were down on a monthly and annual basis. Conversely, active listings at the end of May were up on a month-over-month and year-over-year basis. More balanced market conditions have provided buyers with more negotiating power. As a result, while benchmark and average home prices were up substantially compared to last year, selling prices trended lower on a month-over-month basis.

"Bank of Canada rate hikes, including the 50-basis point hike on June 1, are impacting home buyers in the short term. There is now a psychological aspect where potential buyers are waiting for a bottom in price. This will likely continue through the summer. However, as home buyers adjust to higher borrowing costs, housing demand will be supported by extremely low unemployment, high job vacancies, rising incomes and record immigration," said TRREB President Kevin Crigger.

GTA REALTORS reported 7,283 sales through TRREB's MLS System in May 2022 – down 38.8% compared to May 2021 and down 9% compared to April 2022. The number of new May listings was similar to last year's level and edged up on a month-over-month basis. With sales down and new listings trend flat to slightly up, the number of active listings was up on a year-over-year basis by 26%. The overall average selling price was $1,212,806 for May 2022, representing an annual growth rate of 9.4%. Prices were down just over 3% month over month.

Over in the Hamilton-Burlington area, sales were down by 5.1% month over month and down by 31.9% compared to May 2021. There were 2,631 new listings in May, which was up 7.3% month over month, and compared to May 2021, there was an increase of 16%. The average sale price for residential properties across the RAHB market area was $995,408, which was down 1.7% over the previous month, and up 17.6% compared to May 2021. There were 1.7 months of inventory in May compared to 1.2 months in April and 0.7 months in March (showing just how quickly things have started changing).

"Overall, sales activity was below typical May levels likely due to buyers sitting on the sidelines as mortgage interest rates continue to rise," says RAHB President Lou Piriano. "In May, the residential average sale price also dipped marginally from the previous month to $995,408, just below the million-dollar mark, for the first time this year after holding steady since January 2022. However, as increased inventory comes to the market, buyers have more selection, which may also lend to further negotiation power."

For a closer look at the numbers and a city-by-city breakdown by property type, take a look below:

Questions about buying or selling? Reach out anytime, I'd be happy to discuss the market with you!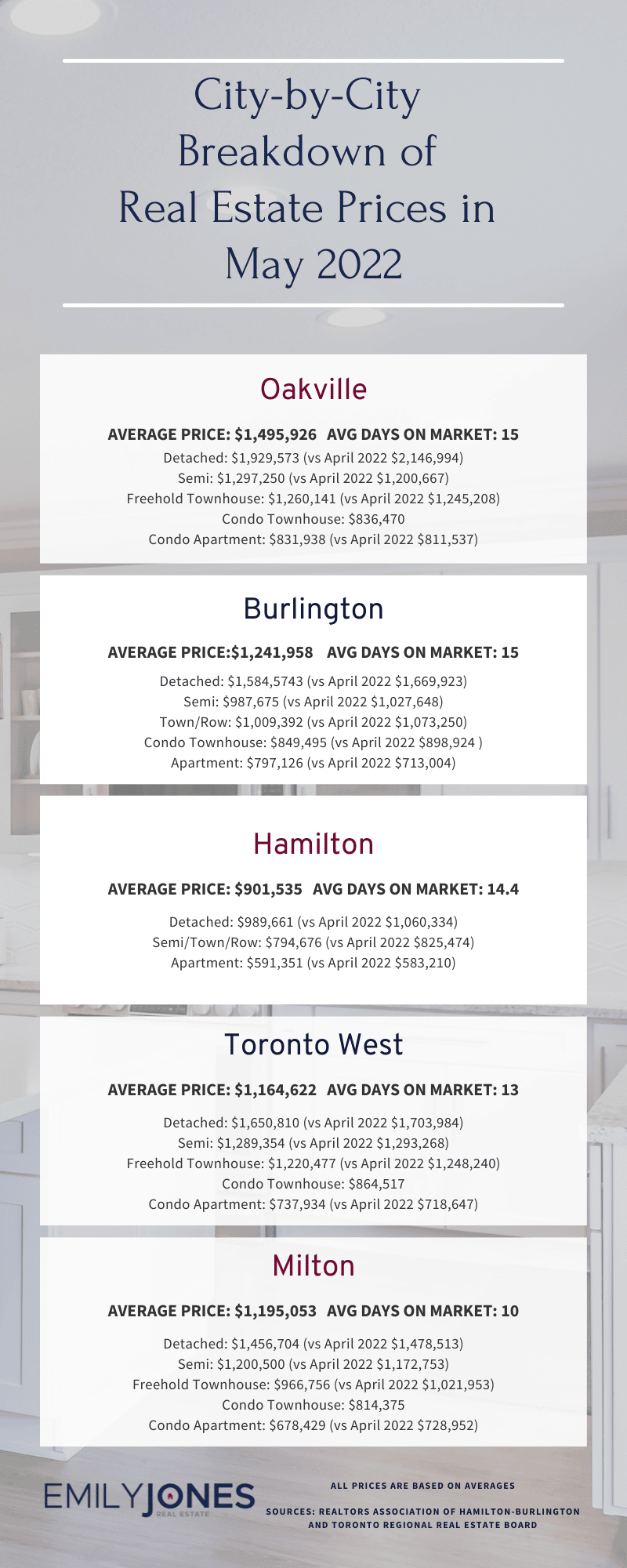 Burlington
Overall Residential Average Sale Price: $1,241,958 compared to $1,230,314 last month
Overall Average Days on Market: 12 days (increase of 3 days compared to last month)
Detached: $1,584,5743 (vs April 2022 $1,669,923)
Semi: $987,675 (vs April 2022 $1,027,648)
Town/Row: $1,009,392 (vs April 2022 $1,073,250)
Condo Townhouse: $849,495 (vs April 2022 $898,924 )
Apartment: $797,126 (vs April 2022 $713,004)
Hamilton
Overall Residential Average Sale Price: $901,535 compared to $949,149 in April 2022
Overall Average Days on Market: 14.4 days
Detached: $989,661 (vs April 2022 $1,060,334)
Semi/Town/Row: $794,676 (vs April 2022 $825,474)
Apartment: $591,351 (vs April 2022 $583,210)
Oakville
Overall Residential Average Sale Price: $1,495,926 compared to last month $1,691,997
Overall Average Days on Market: 15 days
Detached: $1,929,573 (vs April 2022 $2,146,994)
Semi: $1,297,250 (vs April 2022 $1,200,667)
Freehold Townhouse: $1,260,141 (vs April 2022 $1,245,208)
Condo Townhouse: $836,470
Condo Apartment: $831,938 (vs April 2022 $811,537)
Milton
Overall Residential Average Sale Price: $1,195,053 compared to last month $1,181,190
Overall Average Days on Market: 10 days
Detached: $1,456,704 (vs April 2022 $1,478,513)
Semi: $1,200,500 (vs April 2022 $1,172,753)
Freehold Townhouse: $966,756 (vs April 2022 $1,021,953)
Condo Townhouse: $814,375
Condo Apartment: $678,429 (vs April 2022 $728,952)
Mississauga
Overall Residential Average Sale Price: $1,148,784 compared to last month $1,170,211
Overall Average Days on Market: 12 days
Detached: $1,678,533 (vs April 2022 $1,769,358)
Semi: $1,123,011 (vs April 2022 $1,174,586)
Freehold Townhouse: $1,056,708 (vs April 2022 $1,175,353)
Condo Townhouse: $869,427
Condo Apartment: $672,162 (vs April 2022 $707,181)
Toronto West
Overall Residential Average Sale Price: $1,164,622 compared to last month $1,159,271
Overall Average Days on Market: 13 days
Detached: $1,650,810 (vs April 2022 $1,703,984)
Semi: $1,289,354 (vs April 2022 $1,293,268)
Freehold Townhouse: $1,220,477 (vs April 2022 $1,248,240)
Condo Townhouse: $864,517
Condo Apartment: $737,934 (vs April 2022 $718,647)
Sources for Real Estate Market Update for May 2022 : Toronto Regional Real Estate Board and REALTORS® Association of Hamilton-Burlington