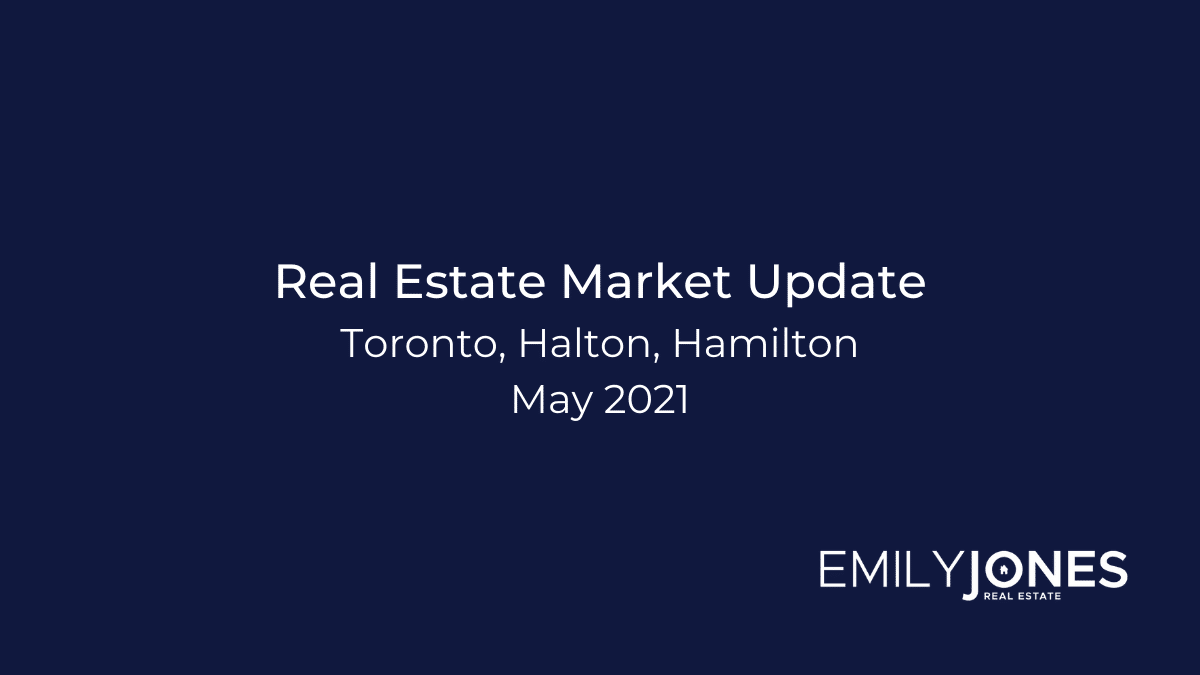 04 Jun

Real Estate Market May 2021

Here's your snapshot of the real estate market for May 2021 in Oakville, Burlington, Hamilton, Milton, Mississauga and Toronto.

Across all these areas, the number of sales went down compared to last month. May is usually the strongest month in a year for the number of sales, but this year did not see that (March holds that spot currently for 2021). Prices have continued to hold strong as inventory remains incredibly low continuing the trend of competition among buyers. We remain in a seller's market.

Take a look below to see how your area is performing! Questions about buying or selling? Reach out anytime, I'd be happy to discuss the market with you!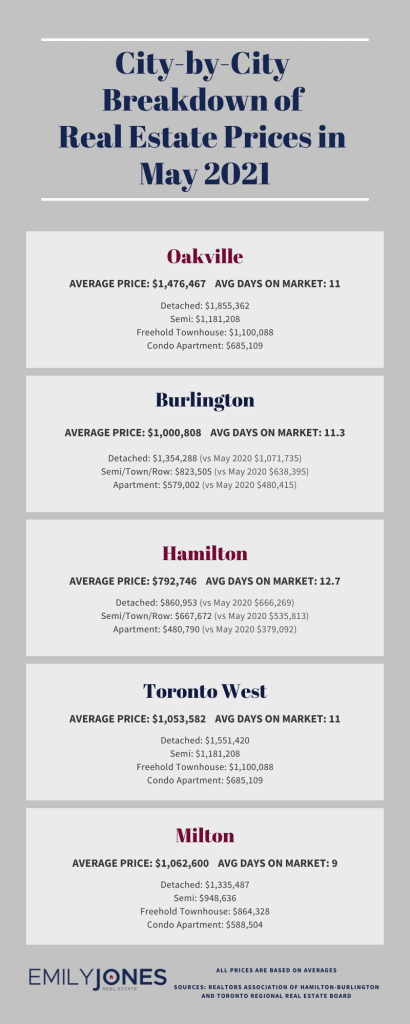 Burlington
Overall Residential Average Sale Price: $1,000,808 compared to $833,073 in May 2020.
Overall Average Days on Market: 11.3 days
Average Price Detached: $1,354,288 (vs May 2020 $1,071,735)
Average Price Semi/Town/Row: $823,505 (vs May 2020 $638,395)
Average Price Apartment: $579,002 (vs May 2020 $480,415)
Hamilton
Overall Residential Average Sale Price: $792,746 compared to $603,800 in May 2020
Overall Average Days on Market: 12.7 days
Average Price Detached: $860,953 (vs May 2020 $666,269 )
Average Price Semi/Town/Row: $667,672 (vs May 2020 $535,813)
Average Price Apartment: $480,790 (vs May 2020 $379,092)
Oakville
Overall Residential Average Sale Price: $1,476,467
Overall Average Days on Market: 11 days
Average Price Detached: $1,855,362
Average Price Semi: $1,181,208
Average Price Freehold Townhouse: $1,100,088
Average Price Condo Apartment: $685,109
Milton
Overall Residential Average Sale Price: $1,062,600
Overall Average Days on Market: 9 days
Average Price Detached: $1,335,487
Average Price Semi: $948,636
Average Price Freehold Townhouse: $864,328
Average Price Condo Apartment: $588,504
Mississauga
Overall Residential Average Sale Price: $1,064,630
Overall Average Days on Market: 11 days
Average Price Detached: $1,551,420
Average Price Semi: $977,149
Average Price Freehold Townhouse: $950,153
Average Price Condo Apartment: $576,898
Toronto West
Overall Residential Average Sale Price: $1,053,582
Overall Average Days on Market: 11 days
Average Price Detached: $1,551,420
Average Price Semi: $1,139,012
Average Price Freehold Townhouse: $1,178,229
Average Price Condo Apartment: $653,752
Sources for Real Estate Market Update for May 2021 : Toronto Regional Real Estate Board and REALTORS® Association of Hamilton-Burlington