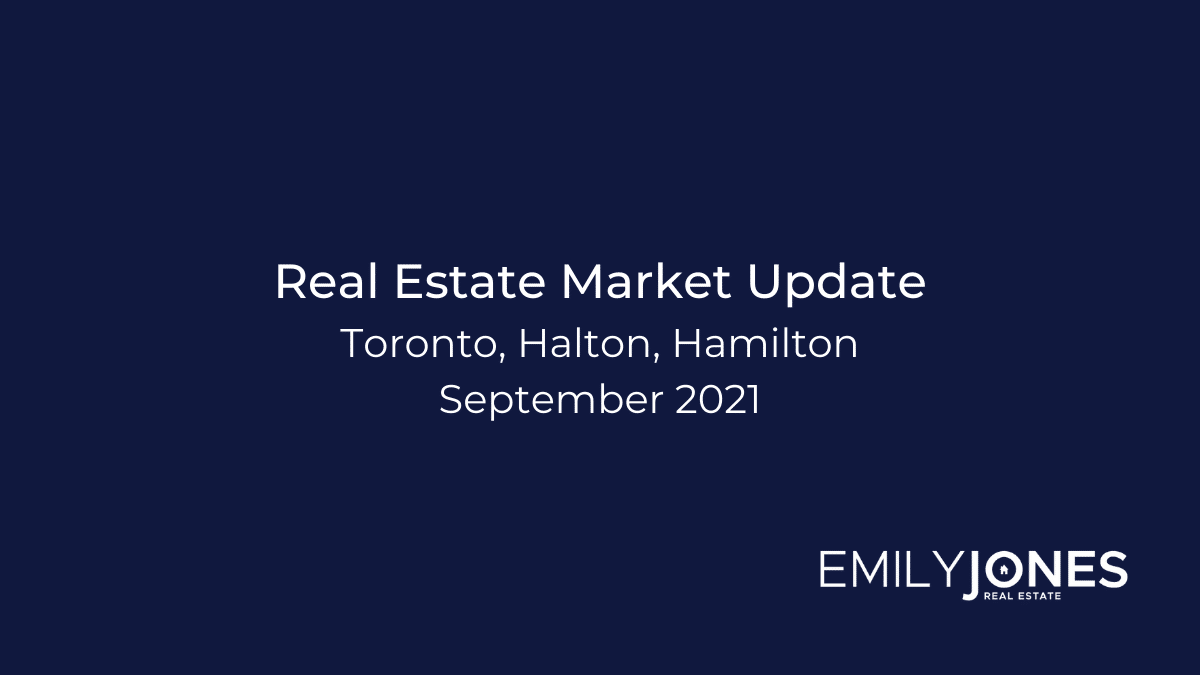 15 Oct

Real Estate Market September 2021

Here's your snapshot of the real estate market for September 2021 in Oakville, Burlington, Hamilton, Milton, Mississauga and Toronto.

September always marks the start of fall market, seeing an uptick in listings, prices and buyer activity. From Toronto through Mississauga, Oakville, Burlington and Hamilton, all areas saw tighter markets than August. The average selling price was up both month-over-month and year-over-year, and average days on market down from a month ago.


Inventory in the GTA remains incredibly low, continuing to drive prices up. The total number of sales was down 18 per cent from 2020's record September
result, in large part due to the lower number of new listings, which were down 34 per cent from the same time last year. In Toronto and the GTA, the average selling price for all home types combined was up by 18.3 per cent year-over-year to $1,136,280.

In Hamilton, things are in a similar situation. September sales were down 30% compared to September of last year, and new listings down 26% since last year. The average price for residential properties was $881,656 which was an increase of nearly five per cent from last month compared to an increase of 22 per cent from September 2020. The inventory available remained unchanged from August 2021 at 0.8 months of inventory (which is incredibly low). Compared to just one month ago, detached prices increased 5%, and townhouse prices increased 2%.


Take a look below to see how your area is performing!Questions about buying or selling? Reach out anytime, I'd be happy to discuss the market with you!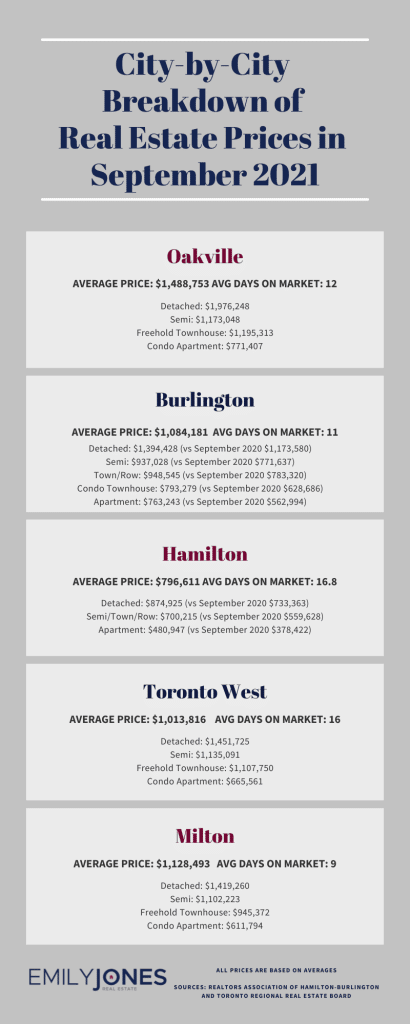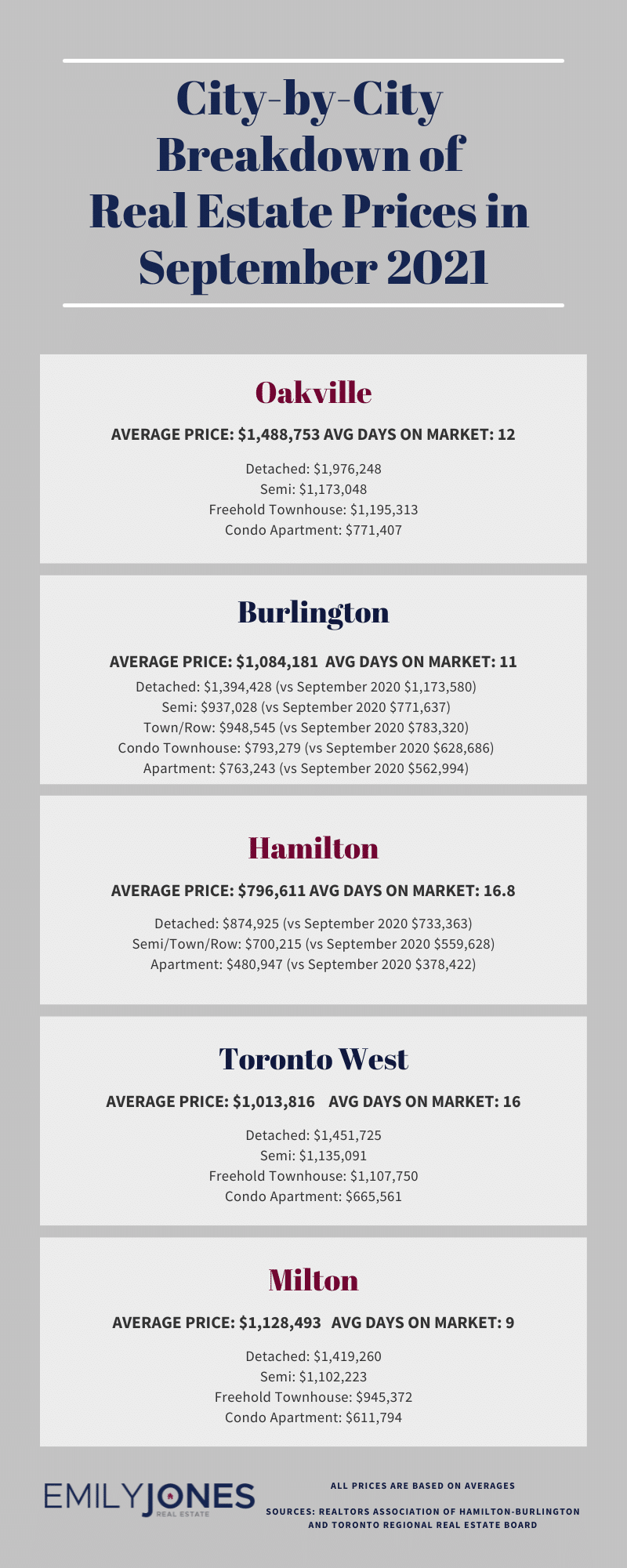 Burlington
Overall Residential Average Sale Price: $1,084,181 compared to $915,994 in September 2020
Overall Average Days on Market: 11 days
Detached: $1,394,428 (vs September 2020 $1,173,580)
Semi: $937,028 (vs September 2020 $771,637)
Town/Row: $948,545 (vs September 2020 $783,320)
Condo Townhouse: $793,279 (vs September 2020 $628,686)
Apartment: $763,243 (vs September 2020 $562,994)
Hamilton
Overall Residential Average Sale Price: $796,611 compared to $663,759 in September 2020
Overall Average Days on Market: 16.8 days
Detached: $874,925 (vs September 2020 $733,363)
Semi/Town/Row: $700,215 (vs September 2020 $559,628)
Apartment: $480,947 (vs September 2020 $378,422)
Oakville
Overall Residential Average Sale Price: $1,488,753
Overall Average Days on Market: 12 days
Detached: $1,976,248
Semi: $1,173,048
Freehold Townhouse: $1,195,313
Condo Apartment: $771,407
Milton
Overall Residential Average Sale Price: $1,128,493
Overall Average Days on Market: 9 days
Detached: $1,419,260
Semi: $1,102,223
Freehold Townhouse: $945,372
Condo Apartment: $611,794
Mississauga
Overall Residential Average Sale Price: $1,037,972
Overall Average Days on Market: 14 days
Detached: $1,594,863
Semi: $1,032,111
Freehold Townhouse: $1,032,179
Condo Apartment: $589,780
Toronto West
Overall Residential Average Sale Price: $1,013,816
Overall Average Days on Market: 16 days
Detached: $1,451,725
Semi: $1,135,091
Freehold Townhouse: $1,107,750
Condo Apartment: $665,561
Sources for Real Estate Market Update for September 2021 : Toronto Regional Real Estate Board and REALTORS® Association of Hamilton-Burlington