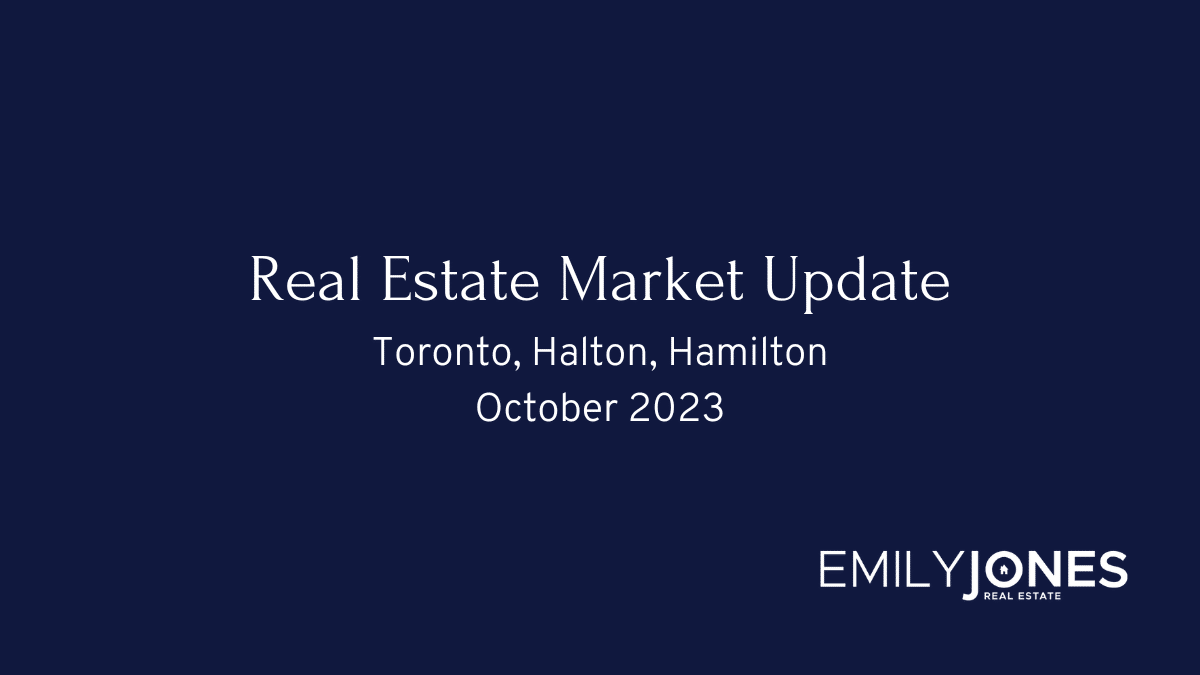 06 Nov

Real Estate Market October 2023

Your September 2023 real estate market update is here! Covering Toronto, Oakville, Burlington, Hamilton and the surrounding areas.
Highlights of the real estate market from TREBB and RAHB
Lack of affordability and uncertainty remained issues for many would-be home buyers in the Greater Toronto Area (GTA) in October 2023. As a result, sales edged lower compared to last year. However, selling prices remained higher than last year's levels.
"Record population growth and a relatively resilient GTA economy have kept the overall demand for housing strong. However, more of that demand has been pointed at the rental market, as high borrowing costs and uncertainty on the direction of interest rates have seen many would-be home buyers remain on the sidelines in the short term. When mortgage rates start trending lower, home sales will pick up quickly," said TRREB President Paul Baron.
REALTORS® reported 4,646 GTA home sales through TRREB's MLS® System in October 2023 – down 5.8% compared to October 2022. On a month-over-month seasonally-adjusted basis, sales were also down in comparison to September. New listings in October 2023 were up noticeably compared to the 12-year low reported in October 2022, but up more modestly compared to the 10-year average for October. New listings, on a seasonally adjusted basis, edged slightly lower month-over-month compared to September 2023.
The October 2023 MLS® Home Price Index Composite benchmark and the average selling price were both up on year-over-year basis, by 1.4% and 3.5% respectively. On a seasonally adjusted basis, the MLS® HPI Composite benchmark edged lower compared to September 2023 while the average selling price remained at a similar level. Both the MLS® HPI Composite benchmark and average price remained above the cyclical lows experienced at the beginning of 2023.
"Competition between buyers remained strong enough to keep the average selling price above last year's level in October and above the cyclical lows experienced in the first quarter of this year. The Bank of Canada also noted this resilience in its October statement. However, home prices remain well-below their record peak reached at the beginning of 2022, so lower home prices have mitigated the impact of higher borrowing costs to a certain degree," said TRREB Chief Market Analyst Jason Mercer.
For the second month in a row, the REALTORS® Association of Hamilton-Burlington (RAHB) reported gains in new listings. Supply levels reached highs for the month of October not seen in nearly a decade. Increased supply is welcome news for buyers who now have more choice and flexibility in their homebuying decisions.
A total of 2,106 new listings in October were met with 653 sales, keeping the sales to new listings ratio exceptionally low at 31%. The recent rise in new listings has placed upward pressure on inventory levels, which rose to 3,145 units.
"Higher lending rates are likely weighing on homeowners, with an increasing number of them choosing to list their home. While new listings have risen across all property types and price ranges, we are seeing larger inventory gains in the higher price points of the market," says Nicolas von Bredow, President of RAHB.
Inventory levels are the highest reported since 2011, with nearly five months of supply available. The increase in supply is contributing to minor price decreases. As of October, the unadjusted Benchmark price was $829,100 nearly 3% lower than last month and just slightly lower than levels reported last year at this time. Prices trended down across all property types. The smallest monthly price decline occurred in the apartment condominium sector. Home prices continue to be higher than pre-pandemic pricing.
Questions about buying or selling? Reach out anytime, I'd be happy to discuss the market with you!
All the latest home prices and statistics by property type and city below!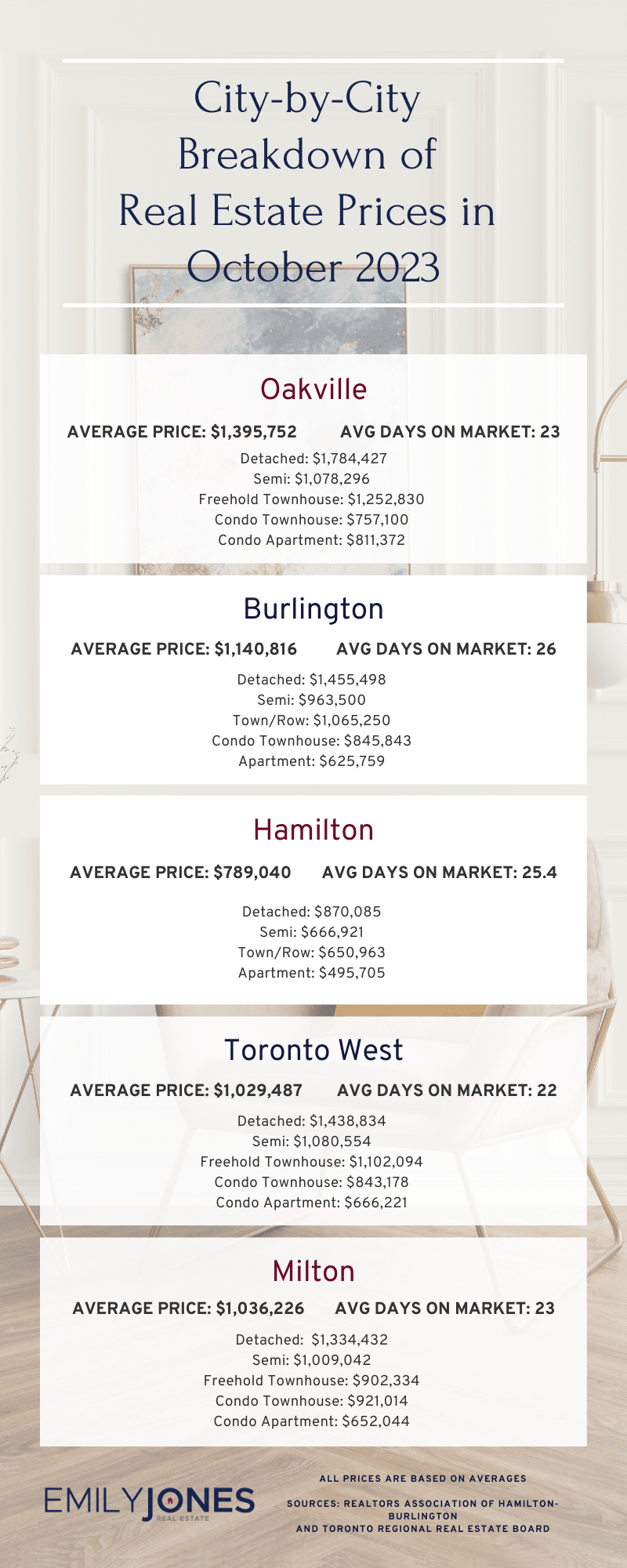 Burlington
Average Sale Price: $1,140,816 compared to $1,049,362last month
Average Days on Market: 26 days
Detached: $1,455,498 (vs Sept 2023 $1,346,007)
Semi: $963,500 (vs Sept 2023 $929,863)
Town/Row: $1,065,250 (vs Sept 2023 $958,338)
Condo Townhouse: $845,843 (vs Sept 2023 $802,700)
Apartment: $625,759 (vs Sept 2023 $656,808)
Hamilton
Average Sale Price: $789,040 compared to $776,819 last month
Average Days on Market: 25.4 days
Detached: $870,085 (vs 2023 $851,446)
Semi: $666,921 (vs. Sept $625,528)
Town/Row: $650,963 (vs Sept 2023 $718,112)
Apartment: $495,705 (vs Sept 2023 $504,638)
Oakville
Average Sale Price: $1,395,752 compared to $1,551,189 last month
Average Days on Market: 23 days
Detached: $1,784,427 (vs Sept 2023 $1,989,900)
Semi: $1,078,296 (vs Sept 2023 $1,129,857)
Freehold Townhouse: $1,252,830 (vs Sept 2023 $1,203,563)
Condo Townhouse: $757,100 (vs Sept 2023 $986,685)
Condo Apartment: $811,372 (vs Sept 2023 $750,910)
Mississauga
Average Sale Price: $1,106,263 compared to $1,021,324 last month
Overall Average Days on Market: 21 days
Detached: $1,564,286 (vs Sept 2023 $1,439,735)
Semi: $980,912 (vs Sept 2023 $1,084,793)
Freehold Townhouse: $1,015,917 (vs Sept 2023 $1,093,700)
Condo Townhouse: $791,564 (vs Sept 2023 $796,440)
Condo Apartment: $626,630 (vs Sept 2023 $652,653)
Toronto West
Average Sale Price: $1,029,487 compared to $1,132,496 last month
Average Days on Market: 22 days
Detached: $1,438,834 (vs Sept 2023 $1,563,129)
Semi: $1,080,554 (vs Sept 2023 $1,188,372)
Freehold Townhouse: $1,102,094 (vs Sept 2023 $1,093,464)
Condo Townhouse: $843,178 (vs Sept 2023 $804,619)
Condo Apartment: $666,221 (vs Sept 2023 $688,450)
Milton
Average Sale Price: $1,036,226 compared to $1,053,783 last month
Average Days on Market: 23 days
Detached: $1,334,432 (vs Sept 2023 $1,284,663)
Semi: $1,009,042 (vs Sept 2023 $1,053,857)
Freehold Townhouse: $902,334 (vs Sept 2023 $922,100)
Condo Townhouse: $921,014 (vs August 2023 $782,100)
Condo Apartment: $652,044 (vs Sept 2023 $595,556)
Sources for Real Estate Market Update for October 2023 : Toronto Regional Real Estate Board and REALTORS® Association of Hamilton-Burlington