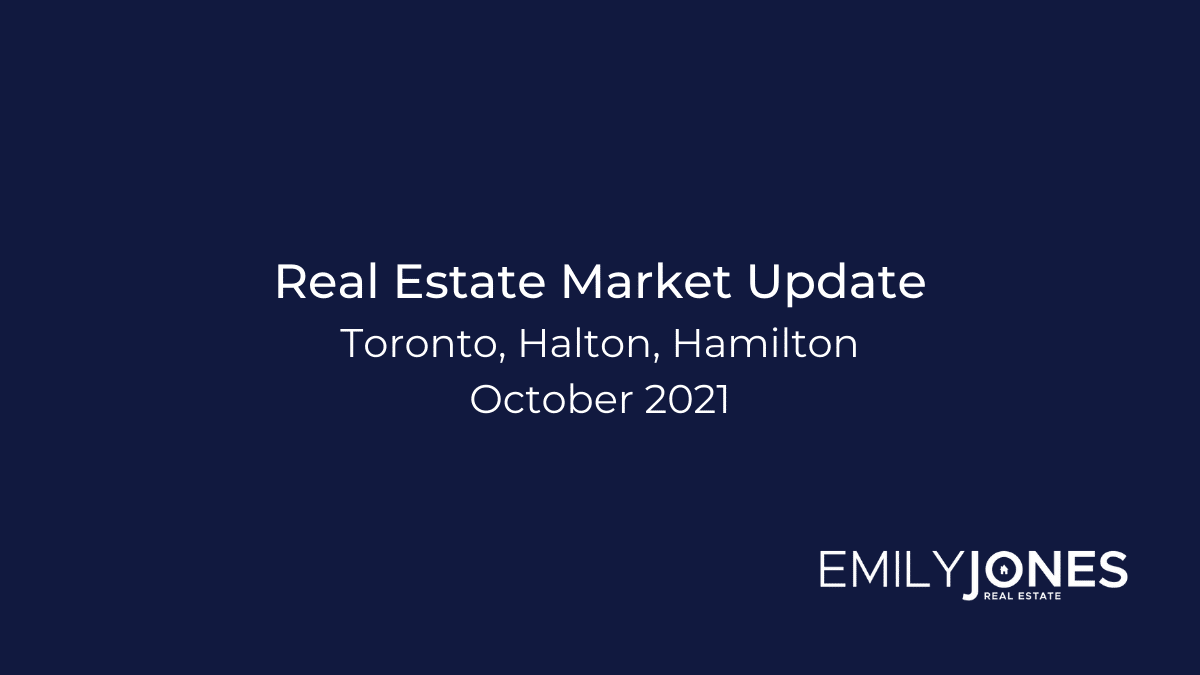 09 Nov

Real Estate Market October 2021

As the fall market continues, demand also continues to outpace supply in Hamilton, Halton, and the Greater Toronto Area (GTA).

In Toronto and the GTA, the number of new listings was down by approximately one-third compared to October 2020, and the number of sales was down by 6.9% compared to last year. The average selling price for all homes combined rose by 19.3 per cent year-over-year to $1,155,345. The low-rise market continued to drive price growth in October, but the annual price growth for condominium apartments was in the double digits as well.

In Hamilton, sales increased eight percent since last month, and they were down nearly 18 percent since October 2020. New listings decreased by nine percent since last month and they were down 23 percent since last October. The average price for all types of residential properties was $922,297 which was an increase of nearly five percent from last month compared to an increase of 27 percent from October 2020. The inventory available dropped even further compared to last month, down to 0.6 months of inventory.


Here's your snapshot of the real estate market for October 2021 in Oakville, Burlington, Hamilton, Milton, Mississauga and Toronto.

Take a look below to see how your area is performing! Questions about buying or selling? Reach out anytime, I'd be happy to discuss the market with you!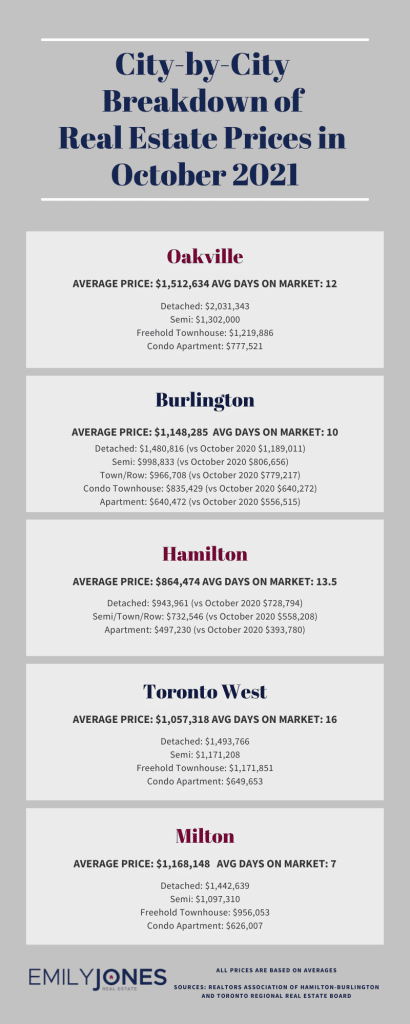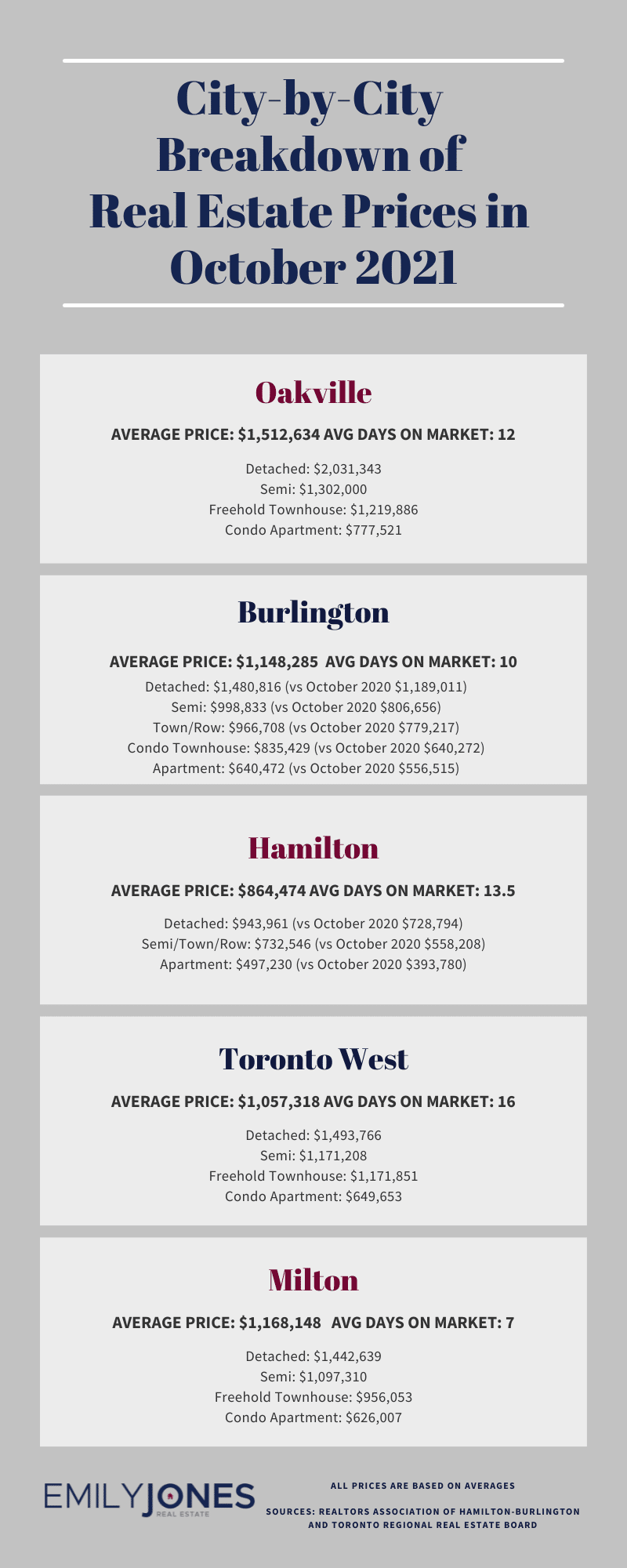 Burlington
Overall Residential Average Sale Price: $1,148,285 compared to $917,013 in October 2020
Overall Average Days on Market: 10 days
Detached: $1,480,816 (vs October 2020 $1,189,011)
Semi: $998,833 (vs October 2020 $806,656)
Town/Row: $966,708 (vs October 2020 $779,217)
Condo Townhouse: $835,429 (vs October 2020 $640,272)
Apartment: $640,472 (vs October 2020 $556,515)
Hamilton
Overall Residential Average Sale Price: $864,474 compared to $664,478 in October 2020
Overall Average Days on Market: 13.5 days
Detached: $943,961 (vs October 2020 $728,794)
Semi/Town/Row: $732,546 (vs October 2020 $558,208)
Apartment: $497,230 (vs October 2020 $393,780)
Oakville
Overall Residential Average Sale Price: $1,512,634
Overall Average Days on Market: 12 days
Detached: $2,031,343
Semi: $1,302,000
Freehold Townhouse: $1,219,886
Condo Apartment: $777,521
Milton
Overall Residential Average Sale Price: $1,168,148
Overall Average Days on Market: 7 days
Detached: $1,442,639
Semi: $1,097,310
Freehold Townhouse: $956,053
Condo Apartment: $626,007
Mississauga
Overall Residential Average Sale Price: $997,187
Overall Average Days on Market: 13 days
Detached: $1,558,244
Semi: $1,046,682
Freehold Townhouse: $1,021,230
Condo Apartment: $604,208
Toronto West
Overall Residential Average Sale Price: $1,057,318
Overall Average Days on Market: 16 days
Detached: $1,493,766
Semi: $1,171,208
Freehold Townhouse: $1,171,851
Condo Apartment: $649,653
Sources for Real Estate Market Update for October 2021 : Toronto Regional Real Estate Board and REALTORS® Association of Hamilton-Burlington