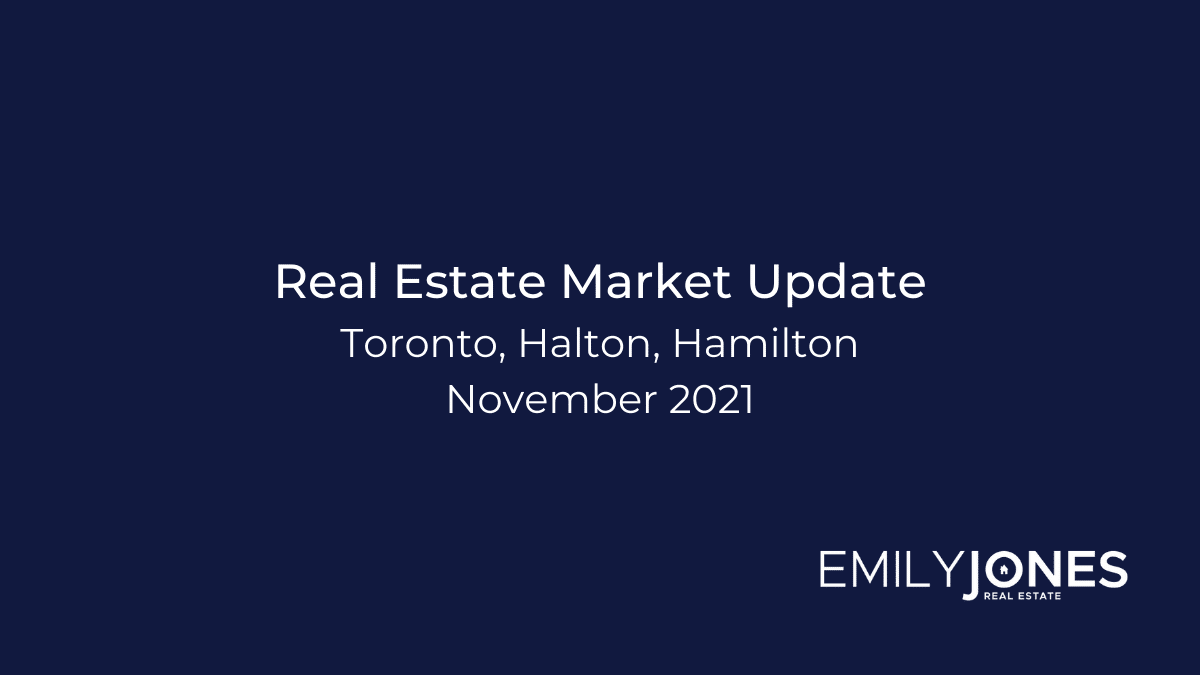 05 Dec

Real Estate Market November 2021

In the GTA, home sales reached a new record for the month of November and the average selling price reached an all time high. New listings were down significantly (down 13.2%) compared to last year in all markets. Across the GTA, the average selling price for all home types was $1,163,323 which was a 21.7% increase over last year.

In Hamilton, sales increased eight percent since last month, and they were down nearly 18 percent since October 2020. New listings decreased by nine percent since last month and they were down 23 percent since last October. The average price for all types of residential properties was $922,297 which was an increase of nearly five percent from the Hamilton-Burlington area, sales decreased by nearly 10% since last month, and they were down 3% since November 2020. New listings also decreased by 10% since last month. The average price for residential properties was $911,673 which was a decrease of 1% from last month, yet an increase of nearly 27% from November 2020. The inventory available dropped even further to 0.5 months of inventory.

In summary: listings continue to be down, inventory levels continue to be at record lows, and demand continues to outpace supply.
Here's your snapshot of the real estate market for November 2021 in Oakville, Burlington, Hamilton, Milton, Mississauga and Toronto.

Take a look below to see how your area is performing! Questions about buying or selling? Reach out anytime, I'd be happy to discuss the market with you!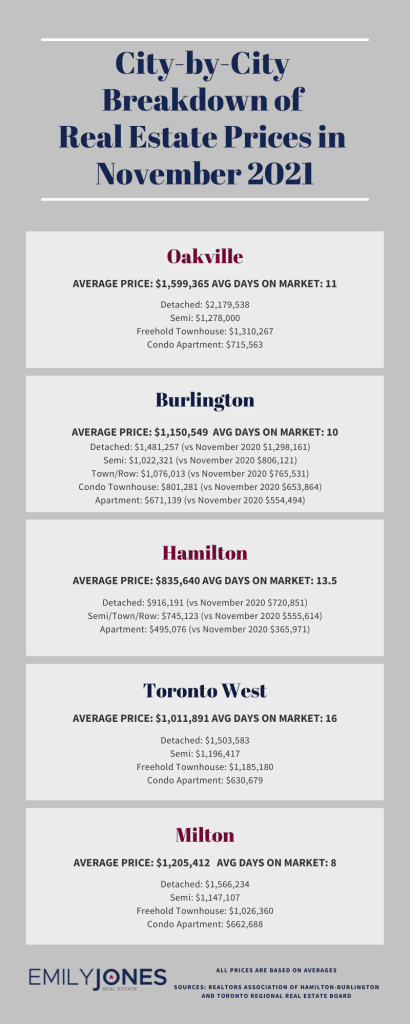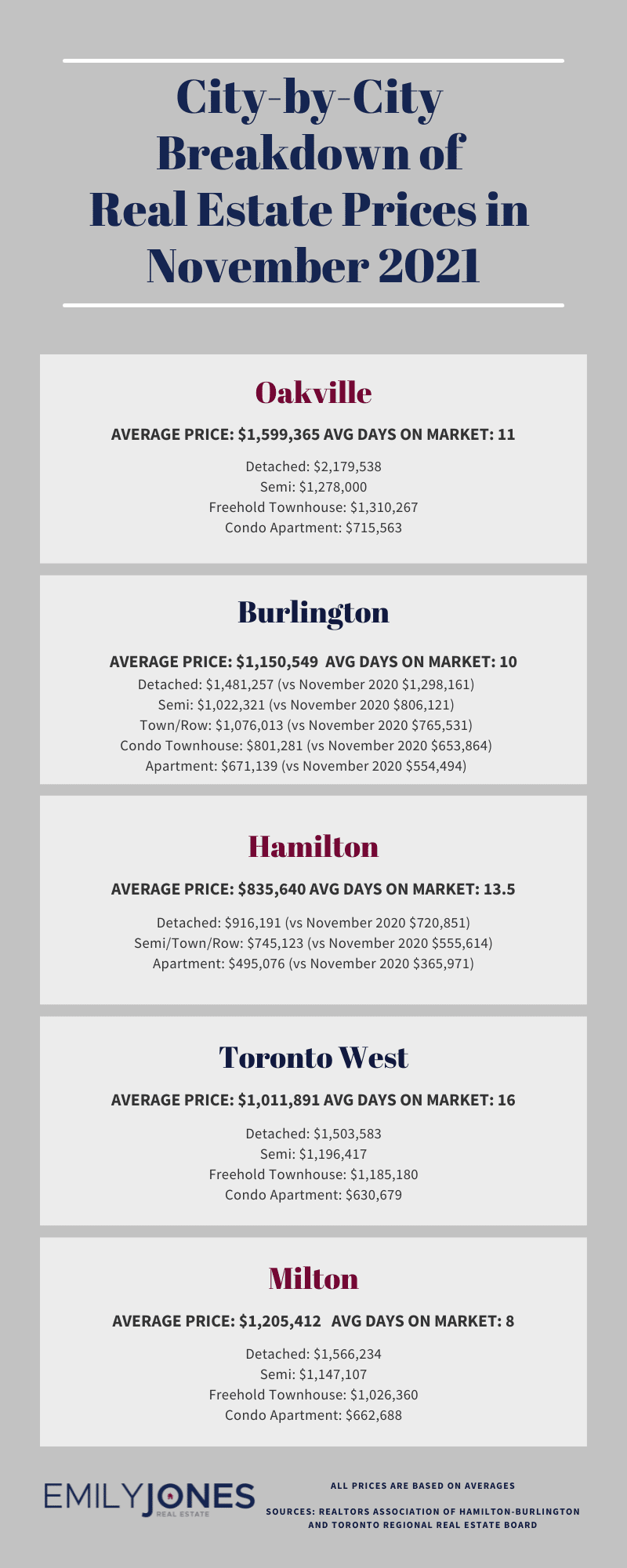 Burlington
Overall Residential Average Sale Price: $1,150,549 compared to $948,924 in November 2020
Overall Average Days on Market: 10 days
Detached: $1,481,257 (vs November 2020 $1,298,161)
Semi: $1,022,321 (vs November 2020 $806,121)
Town/Row: $1,076,013 (vs November 2020 $765,531)
Condo Townhouse: $801,281 (vs November 2020 $653,864)
Apartment: $671,139 (vs November 2020 $554,494)
Hamilton
Overall Residential Average Sale Price: $835,640 compared to $650,350 in November 2020
Overall Average Days on Market: 13.5 days
Detached: $916,191 (vs November 2020 $720,851)
Semi/Town/Row: $745,123 (vs November 2020 $555,614)
Apartment: $495,076 (vs November 2020 $365,971)
Oakville
Overall Residential Average Sale Price: $1,599,365
Overall Average Days on Market: 11 days
Detached: $2,179,538
Semi: $1,278,000
Freehold Townhouse: $1,310,267
Condo Apartment: $715,563
Milton
Overall Residential Average Sale Price: $1,205,412
Overall Average Days on Market: 8 days
Detached: $1,566,234
Semi: $1,147,107
Freehold Townhouse: $1,026,360
Condo Apartment: $662,688
Mississauga
Overall Residential Average Sale Price: $1,039,407
Overall Average Days on Market: 13 days
Detached: $1,612,449
Semi: $1,111,177
Freehold Townhouse: $1,060,417
Condo Apartment: $617,775
Toronto West
Overall Residential Average Sale Price: $1,011,891
Overall Average Days on Market: 16 days
Detached: $1,503,583
Semi: $1,196,417
Freehold Townhouse: $1,185,180
Condo Apartment: $630,679
Sources for Real Estate Market Update for November 2021 : Toronto Regional Real Estate Board and REALTORS® Association of Hamilton-Burlington