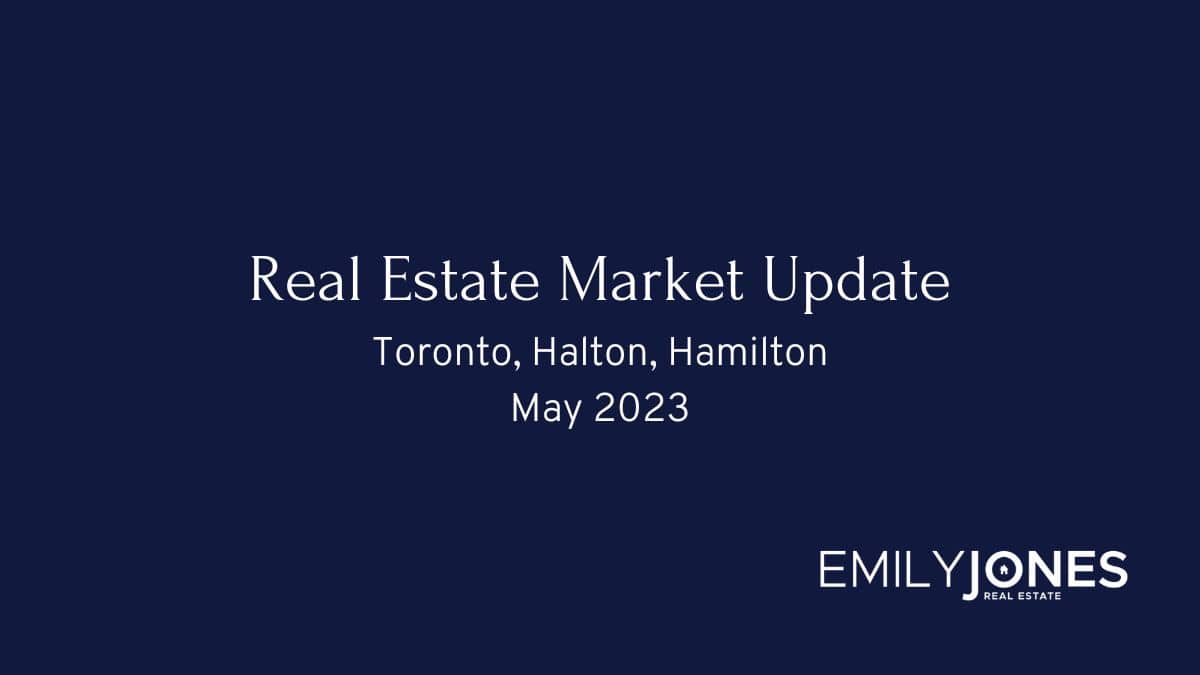 02 Jun

Real Estate Market May 2023

Your May 2023 real estate market update is here! Covering Toronto, Oakville, Burlington, Hamilton and the surrounding areas.
Highlights of the real estate market from TREBB and RAHB
The Greater Toronto Area (GTA) housing market continued to improve from a sales perspective in May 2023. Unfortunately, the supply of homes for sale did not keep up with the demand for ownership housing. Sales as a share of new listings were up dramatically compared to a year ago. This is a clear signal that competition between buyers increased substantially compared to last year, resulting in the average selling price reaching almost $1.2 million last month.
GTA REALTORS® reported 9,012 sales through TRREB's MLS® System in May – a 24.7% increase compared to May 2022. Conversely, new listings were down by 18.7% over the same period. On a month-over-month seasonally adjusted basis, sales were up by 5.2% compared to April 2023.
"The demand for ownership housing has picked up markedly in recent months. Many homebuyers have recalibrated their housing needs in the face of higher borrowing costs and are moving back into the market. In addition, strong rent growth and record population growth on the back of immigration has also supported increased home sales. The supply of listings hasn't kept up with sales, so we have seen upward pressure on selling prices during the spring," said TRREB Chief Market Analyst Jason Mercer.
The MLS® Home Price Index (HPI) composite benchmark was down by 6.9% year-over-year, but up by 3.2% on a seasonally adjusted monthly basis compared to April 2023. The average selling price, at $1,196,101, represented a small 1.2% decline relative to May 2022. On a seasonally adjusted monthly basis, the average selling price was up by 3.5% compared to April 2023.
Over in Hamilton, the REALTORS® Association of Hamilton-Burlington (RAHB) reported 1,254 sales in May. This represents a 12% increase in homes sold over the previous month and a 3% increase in sales compared to May 2022. New listings remain well below the levels traditionally reported this time of year. However, listings rose 32% over the previous month.
With 1,860 units available in May, inventory remains lower than what was available last year and 25% below long-term trends for the month. Rising sales and lower inventories caused the months of supply to fall from 1.7 months in May 2022 to 1.5 months this month. The unadjusted benchmark price in May was $877,100 across the RAHB market area. This is just shy of a 1% price increase over the previous month and 11% lower than May 2022.
Questions about buying or selling? Reach out anytime, I'd be happy to discuss the market with you!
All the latest home prices and statistics by property type and city below!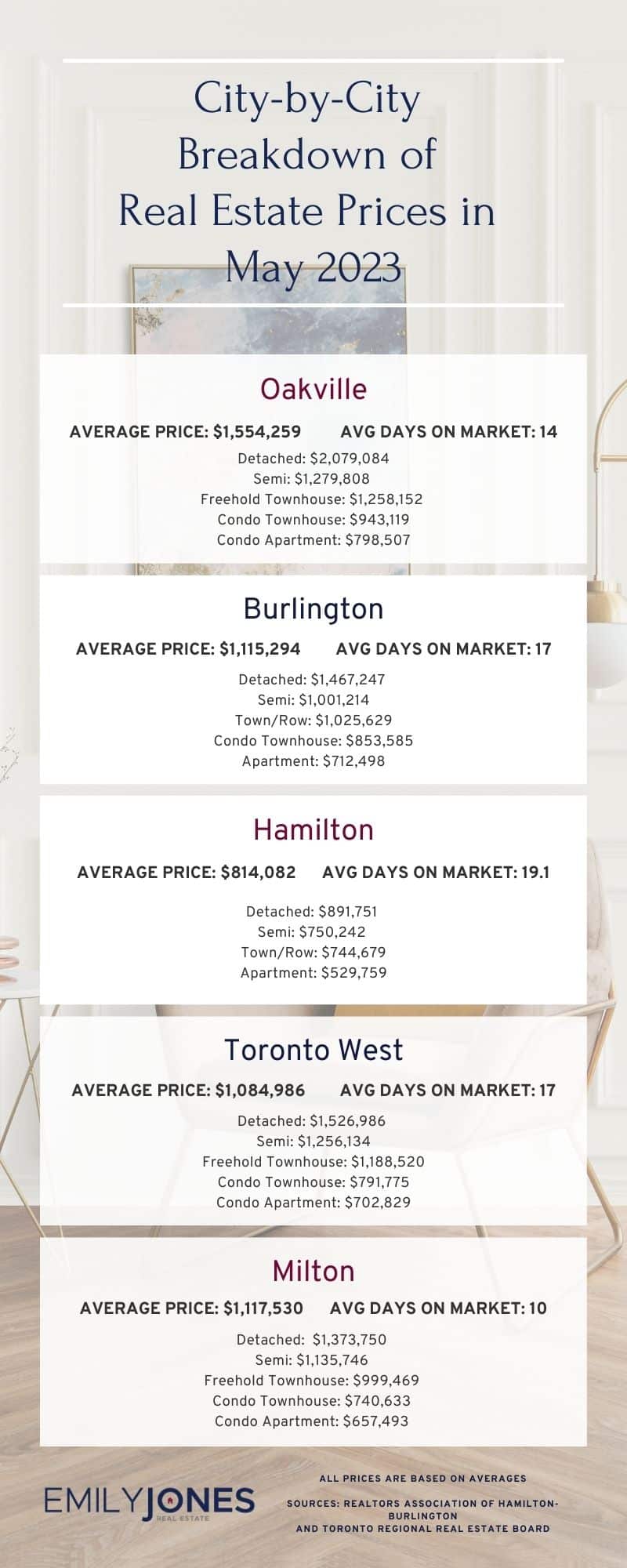 Burlington
Average Sale Price: $1,115,294 compared to $1,149,169last month
Average Days on Market: 17 days
Detached: $1,467,247 (vs April 2023 $1,479,089)
Semi: $1,001,214 (vs April 2023 $1,023,243)
Town/Row: $1,025,629 (vs April 2023 $938,459)
Condo Townhouse: $853,585 (vs April 2023 $833,990)
Apartment: $712,498 (vs April 2023 $649,099)
Hamilton
Average Sale Price: $814,082 compared to $806,809 last month
Average Days on Market: 19.1 days
Detached: $891,751 (vs April 2023 $901,044)
Semi: $750,242 (vs April 2023 $640,421)
Town/Row: $744,679 (vs April 2023 $718,353)
Apartment: $529,759 (vs April 2023 $497,248)
Oakville
Average Sale Price: $1,554,259 compared to $1,580,110 last month
Average Days on Market: 14 days
Detached: $2,079,084 (vs April 2023 $2,023,532)
Semi: $1,279,808 (vs April 2023 $1,192,696)
Freehold Townhouse: $1,258,152 (vs April 2023 $1,327,338)
Condo Townhouse: $943,119 (vs April 2023 $897,215)
Condo Apartment: $798,507 (vs April 2023 $736,516)
Mississauga
Average Sale Price: $1,140,328 compared to $1,076,430 last month
Overall Average Days on Market: 14 days
Detached: $1,620,829 (vs April 2023 $1,567,031)
Semi: $1,132,822 (vs April 2023 $1,059,454)
Freehold Townhouse: $1,172,076 (vs April 2023 $1,071,606)
Condo Townhouse: $868,034 (vs April 2023 $857,062)
Condo Apartment: $635,856 (vs April 2023 $655,660)
Toronto West
Average Sale Price: $1,084,986 compared to $1,031,054 last month
Average Days on Market: 17 days
Detached: $1,526,986 (vs April 2023 $1,461,251)
Semi: $1,256,134 (vs April 2023 $1,132,335)
Freehold Townhouse: $1,188,520 (vs April 2023 $1,197,981)
Condo Townhouse: $791,775 (vs April 2023 $861,284)
Condo Apartment: $702,829 (vs April 2023 $671,246)
Milton
Average Sale Price: $1,117,530 compared to $1,118,827 last month
Average Days on Market: 10 days
Detached: $1,373,750 (vs April 2023 $1,392,263)
Semi: $1,135,746 (vs April 2023 $1,086,929)
Freehold Townhouse: $999,469 (vs April 2023 $933,464)
Condo Townhouse: $740,633 (vs April 2023 $769,286)
Condo Apartment: $657,493 (vs April 2023 $656,283)
Sources for Real Estate Market Update for May 2023 : Toronto Regional Real Estate Board and REALTORS® Association of Hamilton-Burlington