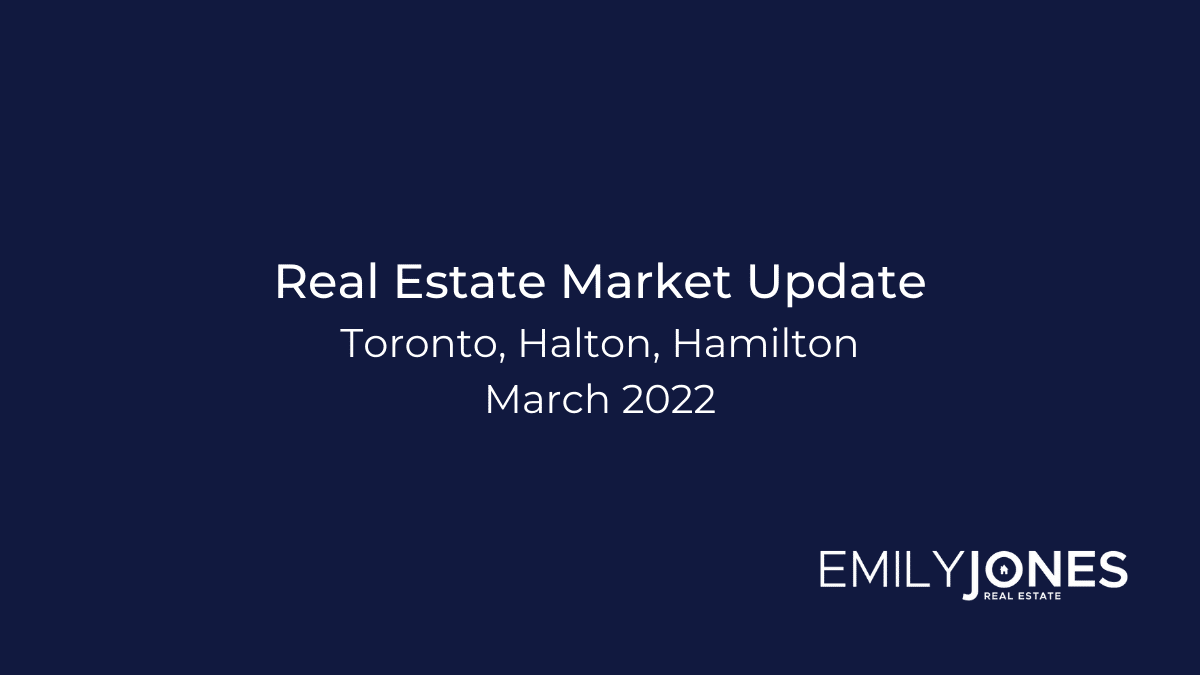 18 Apr

Real Estate Market March 2022

There were almost 11,000 Greater Toronto Area (GTA) home sales reported in March 2022, capping off the third-best March and second-best first quarter on record. Tight market conditions continued to support a double-digit annual pace of price growth, with an average selling price of $1.3 million. The average selling price dipped slightly month-over-month, bucking the regular seasonal trend.

GTA REALTORS® reported 10,955 sales through TRREB's MLS® System in March 2022, representing a 30 per cent decline compared to the record result of 15,628 in March 2021. While sales were down year-over-year for all major market segments, condominium apartment transactions dipped by a much lesser annual rate.

New listings were also down on a year-over-year basis, but by a much lesser annual rate than sales. This suggests that while market conditions remained very tight, home buyers did not experience the same level of competition from other buyers compared to a year earlier.

Over in Hamilton-Burlington, the REALTORS® Association of Hamilton-Burlington (RAHB) reported 1,637 sales of residential properties located within the RAHB market area in March 2022. Sales were up by 33.3 per cent month over month, and down by 21.1 per cent compared to March 2021. There were 2,542 new listings in March, which was up 51.7 per cent month over month, but compared to March 2021, there was a decrease of 6.2 per cent. The average sale price for residential properties across the RAHB market area was $1,073,342, which was down 2.7 per cent over the previous month, and up 22.8 per cent compared to March 2021. The inventory of listings remains low at 0.7 months.

"The overall number of residential transactions in March was the second-highest recorded in ten years. After the first quarter, sales activity is on pace to surpass the 15,000 mark for the second consecutive year," says RAHB President Lou Piriano. "Across the RAHB market area, there was a slight dip in the residential average sale price, although it did remain over the $1,000,000 mark. We do not see the dip in the average sale price after one month of change as a trend or permanent circumstance. The residential market for all dwelling types continues to have less than one month of inventory which means it would take approximately 20 days to sell all the properties available. We are still experiencing a seller's market fueled by high demand and low supply. A balanced market typically has two to three months of inventory."

For a closer look at the numbers and a city by city breakdown by property type, take a look below:

Questions about buying or selling? Reach out anytime, I'd be happy to discuss the market with you!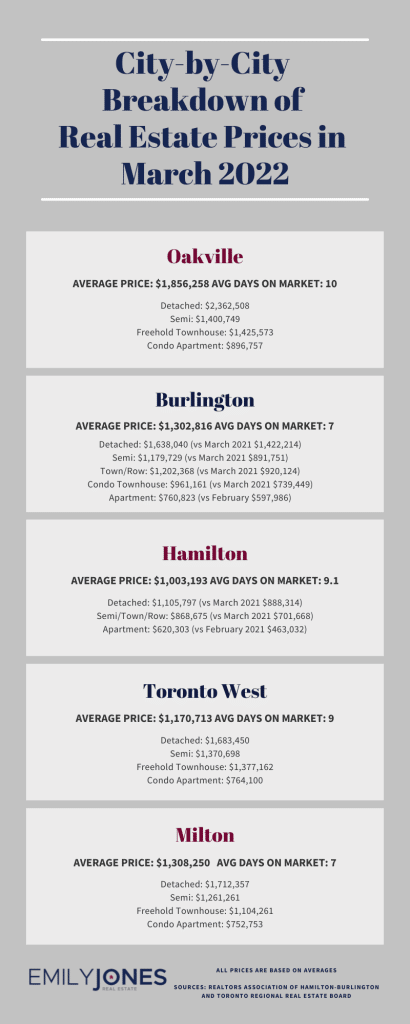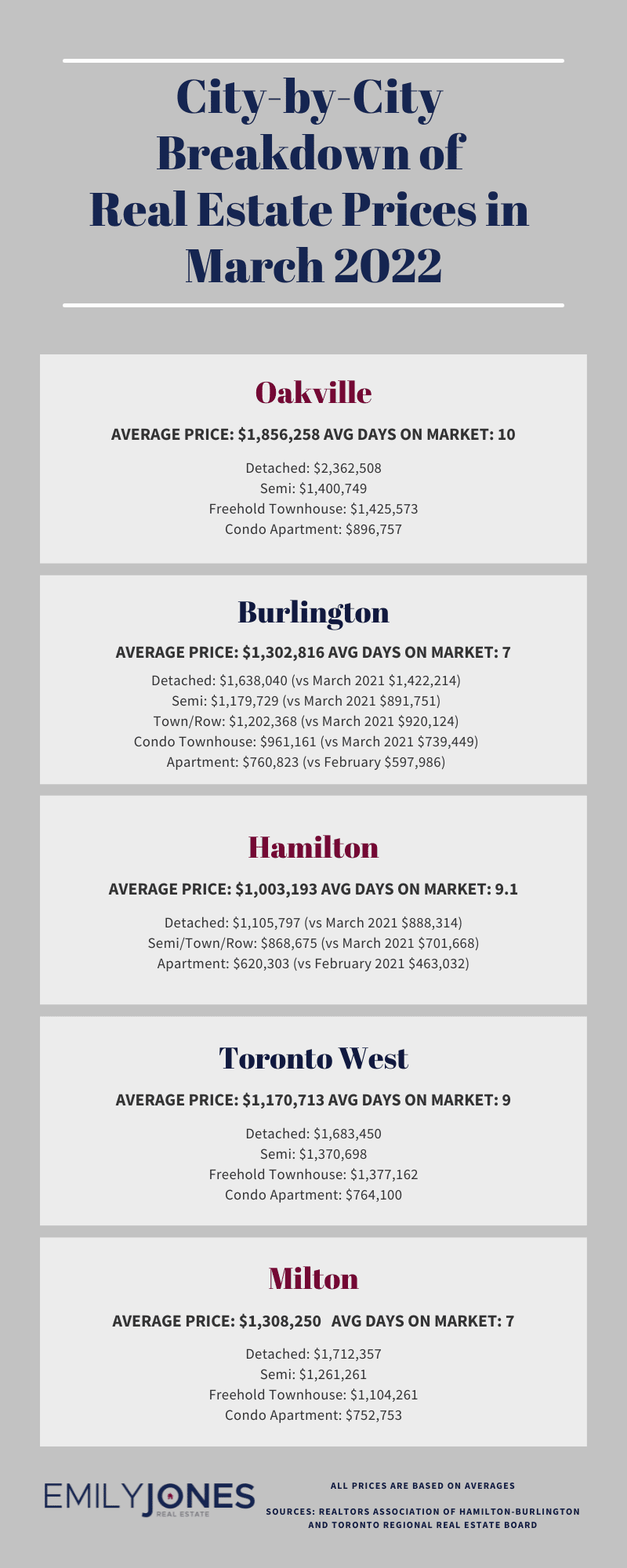 Overall Residential Average Sale Price: $1,302,816 compared to $1,099,362 in March 2021
Overall Average Days on Market: 7 days
Detached: $1,638,040 (vs March 2021 $1,422,214)
Semi: $1,179,729 (vs March 2021 $891,751)
Town/Row: $1,202,368 (vs March 2021 $920,124)
Condo Townhouse: $961,161 (vs March 2021 $739,449)
Apartment: $760,823 (vs March $597,986)
Hamilton
Overall Residential Average Sale Price: $1,003,193 compared to $805,228 in March 2021
Overall Average Days on Market: 9.1 days
Detached: $1,105,797 (vs March 2021 $888,314)
Semi/Town/Row: $868,675 (vs March 2021 $701,668)
Apartment: $620,303 (vs March 2021 $463,032)
Oakville
Overall Residential Average Sale Price: $1,856,258
Overall Average Days on Market: 10 days
Detached: $2,362,508
Semi: $1,400,749
Freehold Townhouse: $1,425,573
Condo Apartment: $896,757
Milton
Overall Residential Average Sale Price: $1,308,250
Overall Average Days on Market: 7 days
Detached: $1,712,357
Semi: $1,261,261
Freehold Townhouse: $1,104,261
Condo Apartment: $752,753
Mississauga
Overall Residential Average Sale Price: $1,182,424
Overall Average Days on Market: 7 days
Detached: $1,756,910
Semi: $1,269,394
Freehold Townhouse: $1,210,888
Condo Apartment: $735,675
Toronto West
Overall Residential Average Sale Price: $1,170,713
Overall Average Days on Market: 9 days
Detached: $1,683,450
Semi: $1,370,698
Freehold Townhouse: $1,377,162
Condo Apartment: $764,100
Sources for Real Estate Market Update for March 2022 : Toronto Regional Real Estate Board and REALTORS® Association of Hamilton-Burlington