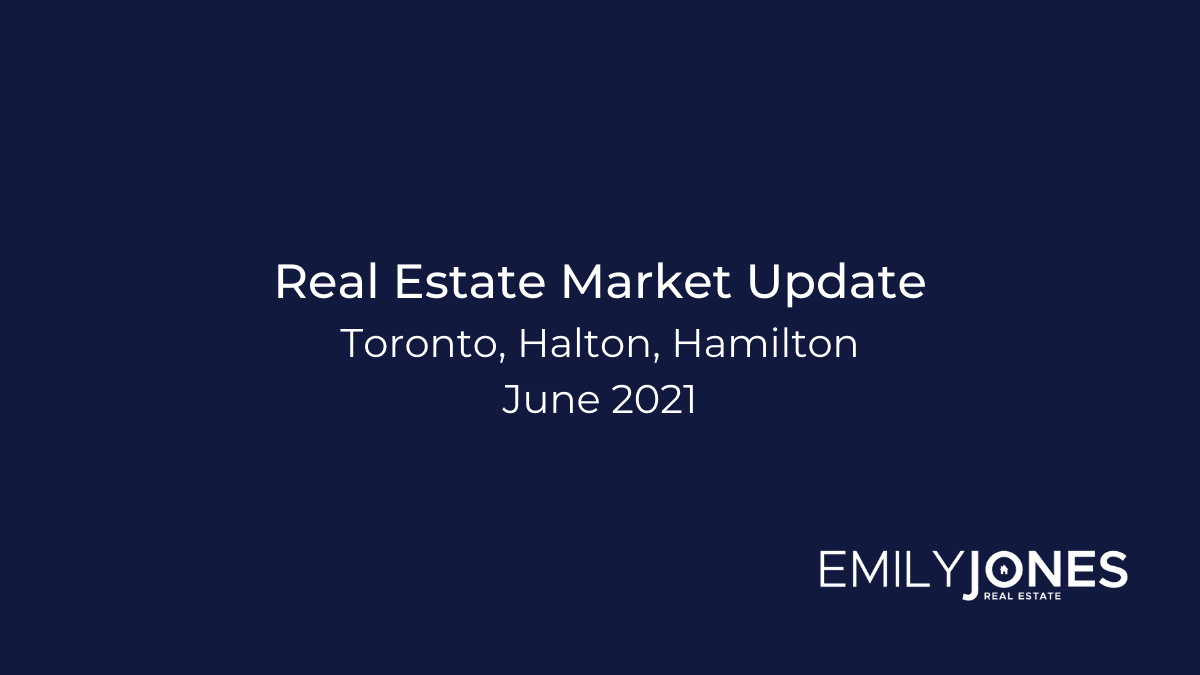 26 Jul

Real Estate Market June 2021

Here's your snapshot of the real estate market for June 2021 in Oakville, Burlington, Hamilton, Milton, Mississauga and Toronto.

June home sales and listings across Toronto, Hamilton and the GTA (Oakville, Burlington, Milton, Mississauga, etc) were up compared to last year, but were 11% lower than the month before. In Hamilton, inventory has dropped about 0.8% compared to last month, listings were down 11%, and prices have increased 2%. Year over year sale prices have seen double digit percentage increases across the board.

"We have seen market activity transition from a record pace to a robust pace over the last three months. While this could provide some relief for home buyers in the near term, a resumption of population growth based on immigration is only months away. While the primary focus of policymakers has been artificially curbing demand, the only longterm solution to affordability is increasing supply to accommodate perpetual housing needs in a growing region," said TRREB President Kevin Crigger.

Take a look below to see how your area is performing! Questions about buying or selling? Reach out anytime, I'd be happy to discuss the market with you!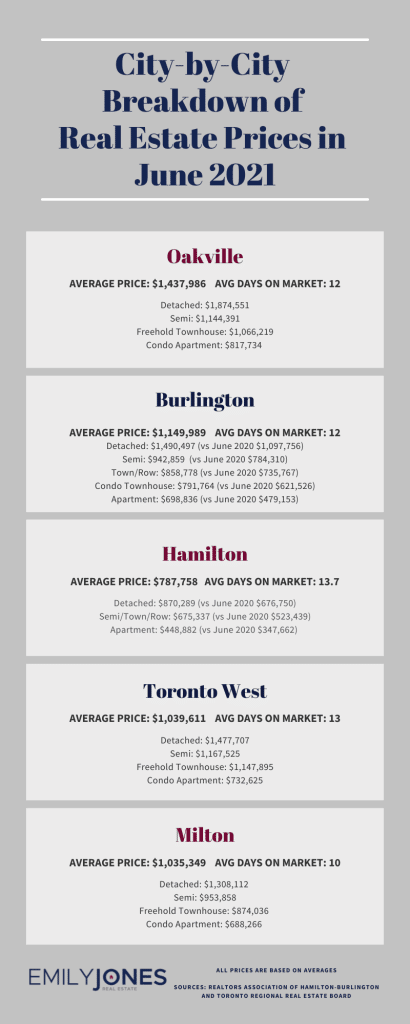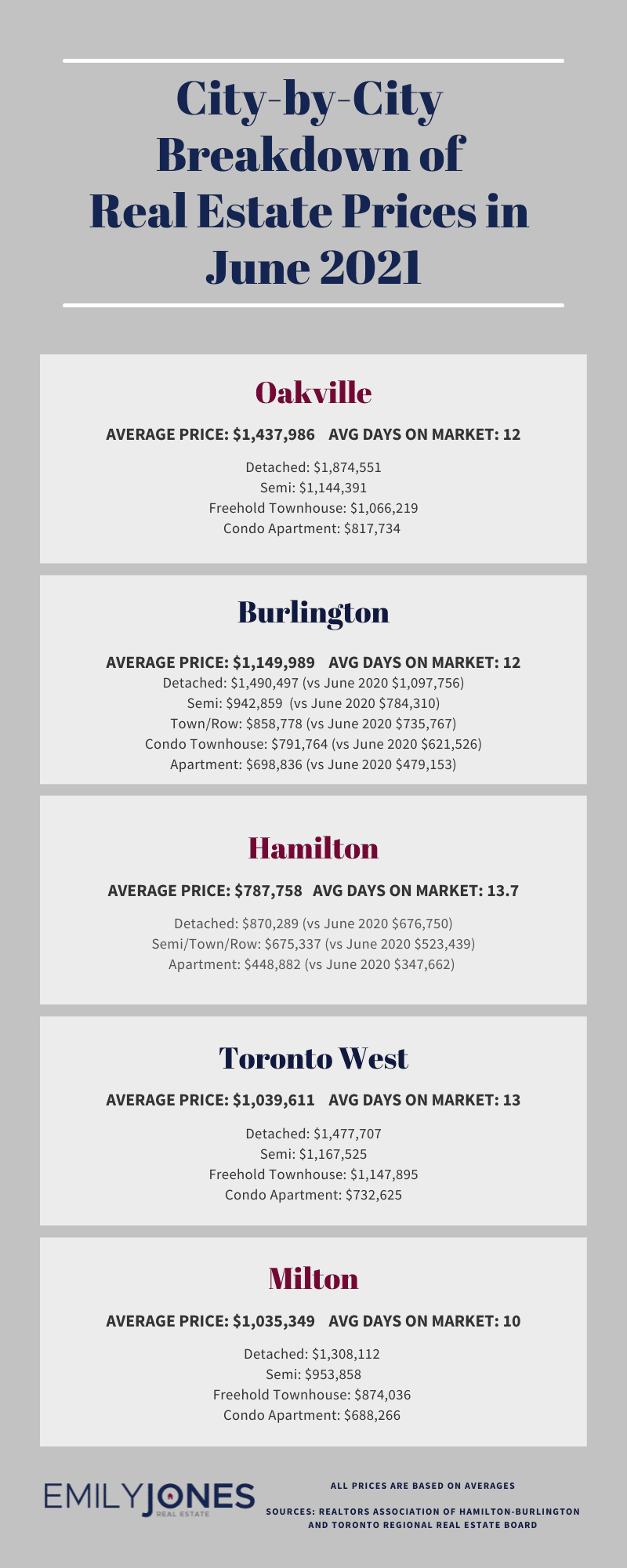 Burlington
Overall Residential Average Sale Price: $1,149,989 compared to $900,697 in June 2020
Overall Average Days on Market: 12 days
Detached: $1,490,497 (vs June 2020 $1,097,756)
Semi: $942,859 (vs June 2020 $784,310)
Town/Row: $858,778 (vs June 2020 $735,767)
Condo Townhouse: $791,764 (vs June 2020 $621,526)
Apartment: $698,836 (vs June 2020 $479,153)
Hamilton
Overall Residential Average Sale Price: $787,758 compared to $617,024 in June 2020
Overall Average Days on Market: 13.7 days
Detached: $870,289 vs June 2020 $676,750)
Semi/Town/Row: $675,337 (vs June 2020 $523,439)
Apartment: $448,882 (vs June 2020 $347,662)
Oakville
Overall Residential Average Sale Price: $1,437,986
Overall Average Days on Market: 12 days
Detached: $1,874,551
Semi: $1,144,391
Freehold Townhouse: $1,066,219
Condo Apartment: $817,734
Milton
Overall Residential Average Sale Price: $1,035,349
Overall Average Days on Market: 10 days
Detached: $1,308,112
Semi: $953,858
Freehold Townhouse: $874,036
Condo Apartment: $688,266
Mississauga
Overall Residential Average Sale Price: $1,019,325
Overall Average Days on Market: 12 days
Detached: $1,524,060
Semi: $957,379
Freehold Townhouse: $928,159
Condo Apartment: $582,155
Toronto West
Overall Residential Average Sale Price: $1,039,611
Overall Average Days on Market: 13 days
Detached: $1,477,707
Semi: $1,167,525
Freehold Townhouse: $1,147,895
Condo Apartment: $732,625
Sources for Real Estate Market Update for June 2021 : Toronto Regional Real Estate Board and REALTORS® Association of Hamilton-Burlington