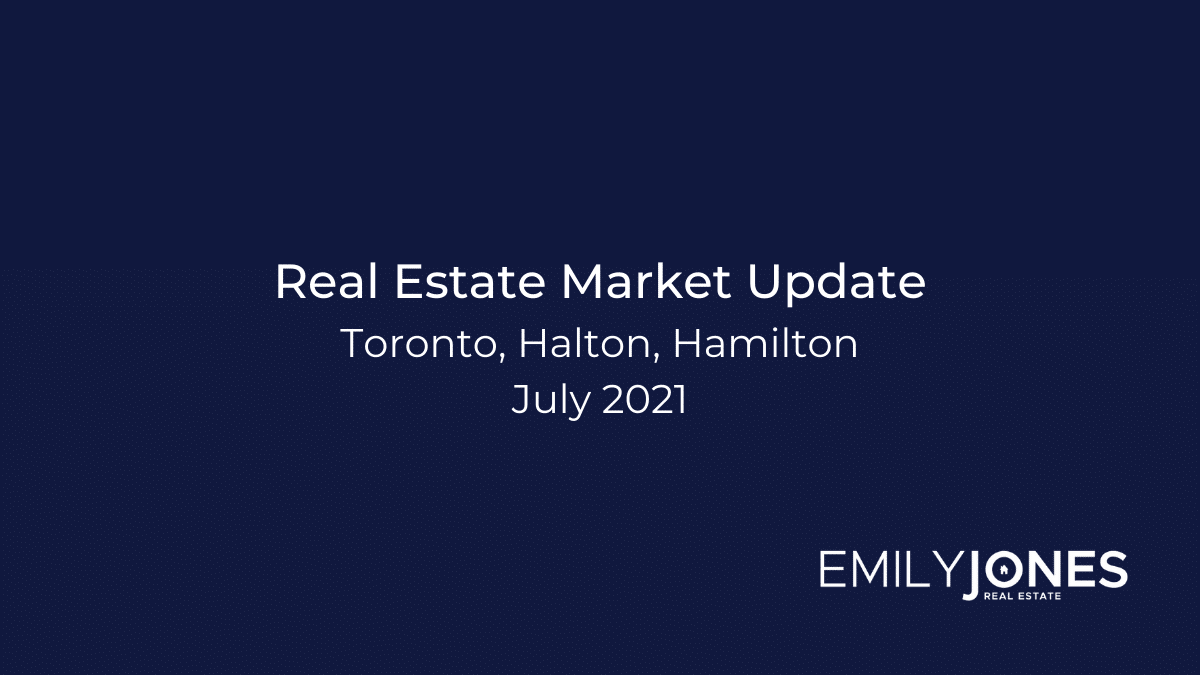 09 Aug

Real Estate Market July 2021

Here's your snapshot of the real estate market for July 2021 in Oakville, Burlington, Hamilton, Milton, Mississauga and Toronto.

The market continues to see double digit price increases compared to a year ago, while month over month prices are fairly stable compared to June of 2021. August is typically a slow month in terms of listings with many sellers taking the time to enjoy the weather before things pick up in the fall. Strong demand and record low inventory levels continue to be a trend in all markets from Hamilton, Burlington, Oakville, through to Toronto.

Will real estate prices fall? No one can know for sure, but demand doesn't seem to be going anywhere. "The annual rate of price growth has moderated since the early spring, but has remained in the double digits. This means that many households are still competing very hard to reach a deal on a home. This strong upward pressure on home prices will be sustained in the absence of more supply, especially as we see a resurgence in population growth moving into 2022," said TRREB Chief Market Analyst Jason Mercer.

Take a look below to see how your area is performing! Questions about buying or selling? Reach out anytime, I'd be happy to discuss the market with you!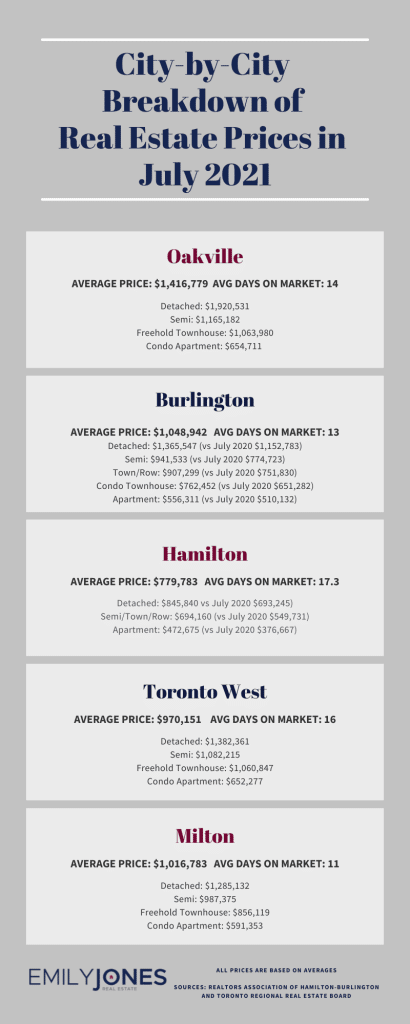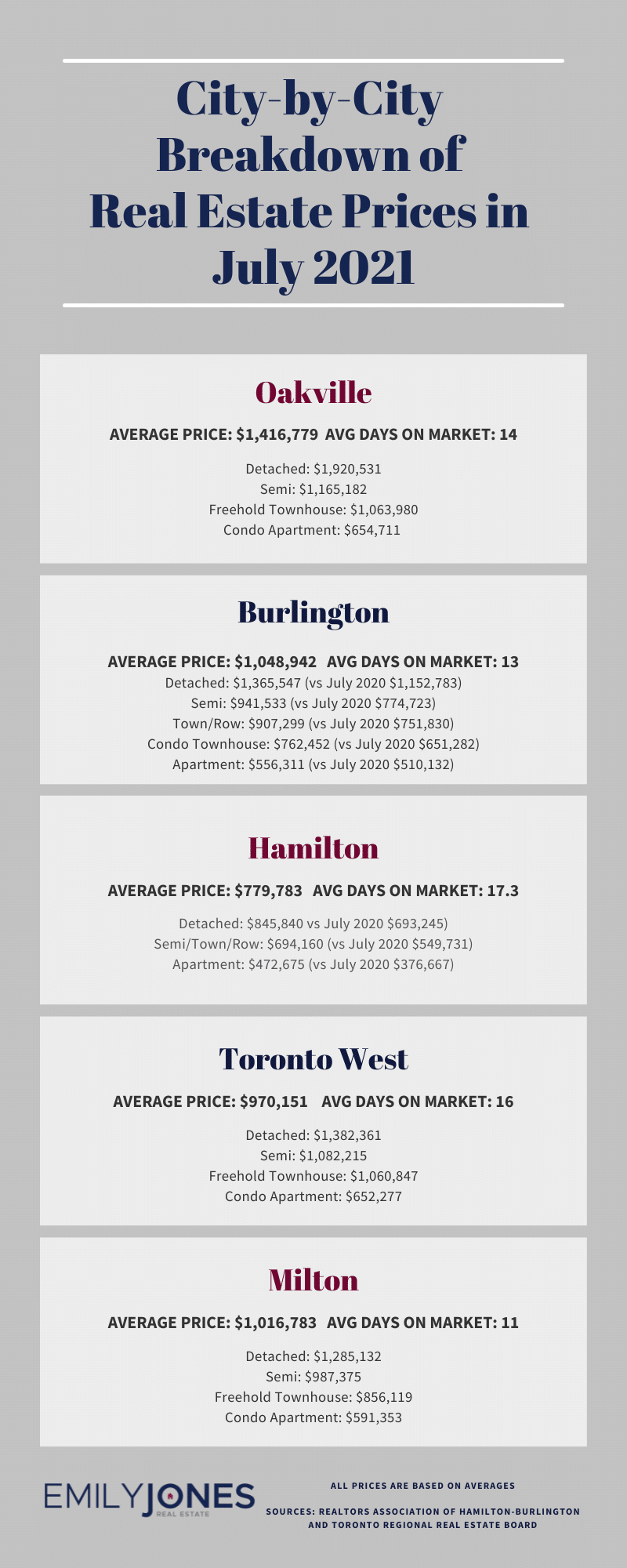 Burlington
Overall Residential Average Sale Price: $1,048,942 compared to $907,061 in July 2020
Overall Average Days on Market: 13 days
Detached: $1,365,547 (vs July 2020 $1,152,783)
Semi: $941,533 (vs July 2020 $774,723)
Town/Row: $907,299 (vs July 2020 $751,830)
Condo Townhouse: $762,452 (vs July 2020 $651,282)
Apartment: $556,311 (vs July 2020 $510,132)
Hamilton
Overall Residential Average Sale Price: $779,783 compared to $626,759 in July 2020
Overall Average Days on Market: 17.3 days
Detached: $845,840 vs July 2020 $693,245)
Semi/Town/Row: $694,160 (vs July 2020 $549,731)
Apartment: $472,675 (vs July 2020 $376,667)
Oakville
Overall Residential Average Sale Price: $1,416,779
Overall Average Days on Market: 14 days
Detached: $1,920,531
Semi: $1,165,182
Freehold Townhouse: $1,063,980
Condo Apartment: $654,711
Milton
Overall Residential Average Sale Price: $1,016,783
Overall Average Days on Market: 11 days
Detached: $1,285,132
Semi: $987,375
Freehold Townhouse: $856,119
Condo Apartment: $591,353
Mississauga
Overall Residential Average Sale Price: $963,829
Overall Average Days on Market: 14 days
Detached: $1,551,658
Semi: $965,387
Freehold Townhouse: $994,761
Condo Apartment: $578,349
Toronto West
Overall Residential Average Sale Price: $970,151
Overall Average Days on Market: 16 days
Detached: $1,382,361
Semi: $1,082,215
Freehold Townhouse: $1,060,847
Condo Apartment: $652,277
Sources for Real Estate Market Update for July 2021 : Toronto Regional Real Estate Board and REALTORS® Association of Hamilton-Burlington