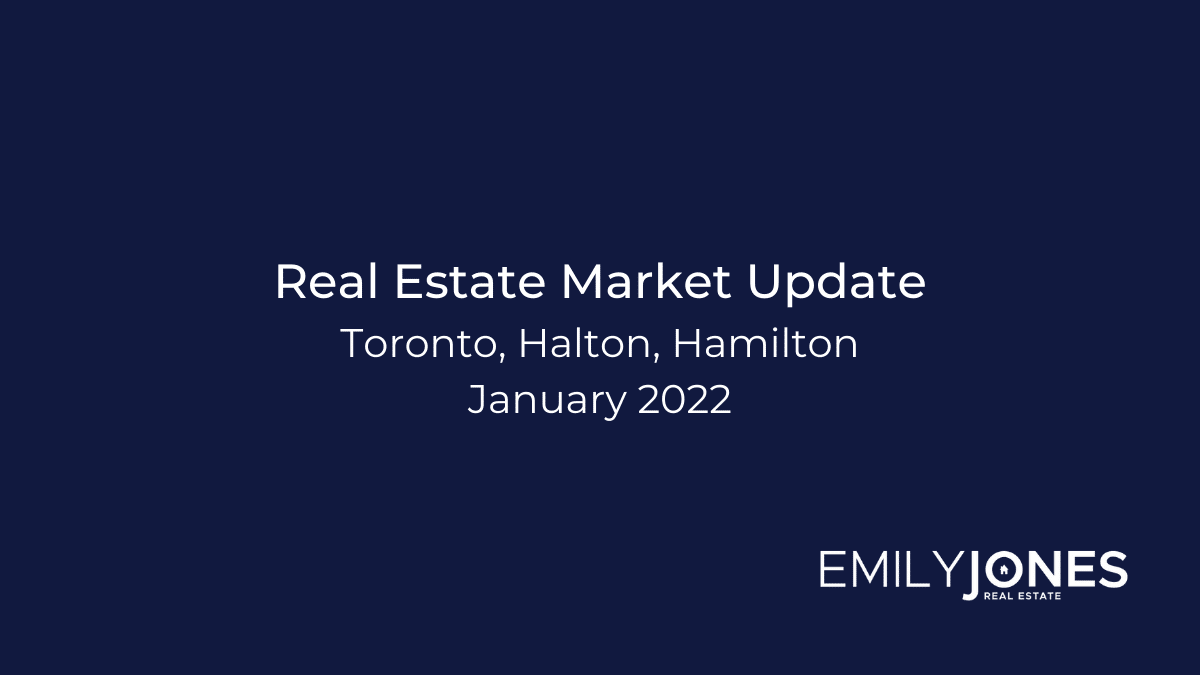 08 Feb

Real Estate Market January 2022

In January, the TREBB system saw that sales were significantly down year over year. The number of sales reported were down 18.2% compared to January of 2021. New listings were also down similarly (down 15.5%) and by the end of January, active listings across the board were down to 4,140 listings. This is the lowest level in more than two decades. As far as average sale prices, they are up 28.6% year over year with the average price across property types coming in at $1,242,793. Reminder that just one month ago, the December average sale price was $1,095,475.

Over in the Hamilton and Burlington area, RAHB saw 718 sales in January 2022. This is down 11% month over month, and also decreased by 13.5% compared to January 2021. New listings were up by 40.9 per cent month over month, but compared to January 2021, there new listings were down 11%. The average price for all residential properties was $1,058,756, which was an increase of 13.6% from just a month ago, and an increase of 34.7% compared to January 2021. The inventory of listings remains low at 0.6 months.

"The average sale price for all residential properties reached a record-high in January at $1,058,756 across the RAHB market area. This is the first time that the average sale price has topped $1,000,000," says RAHB President Lou Piriano. If we look at the average sale price by area, Hamilton came in at $976,423 and Burlington was $1,369,337.

For a closer look at the numbers and a city by city breakdown by property type, take a look below:

Questions about buying or selling? Reach out anytime, I'd be happy to discuss the market with you!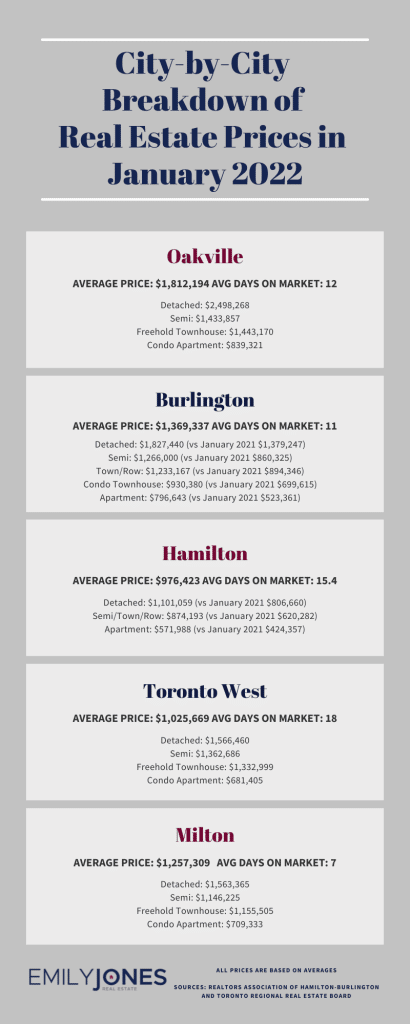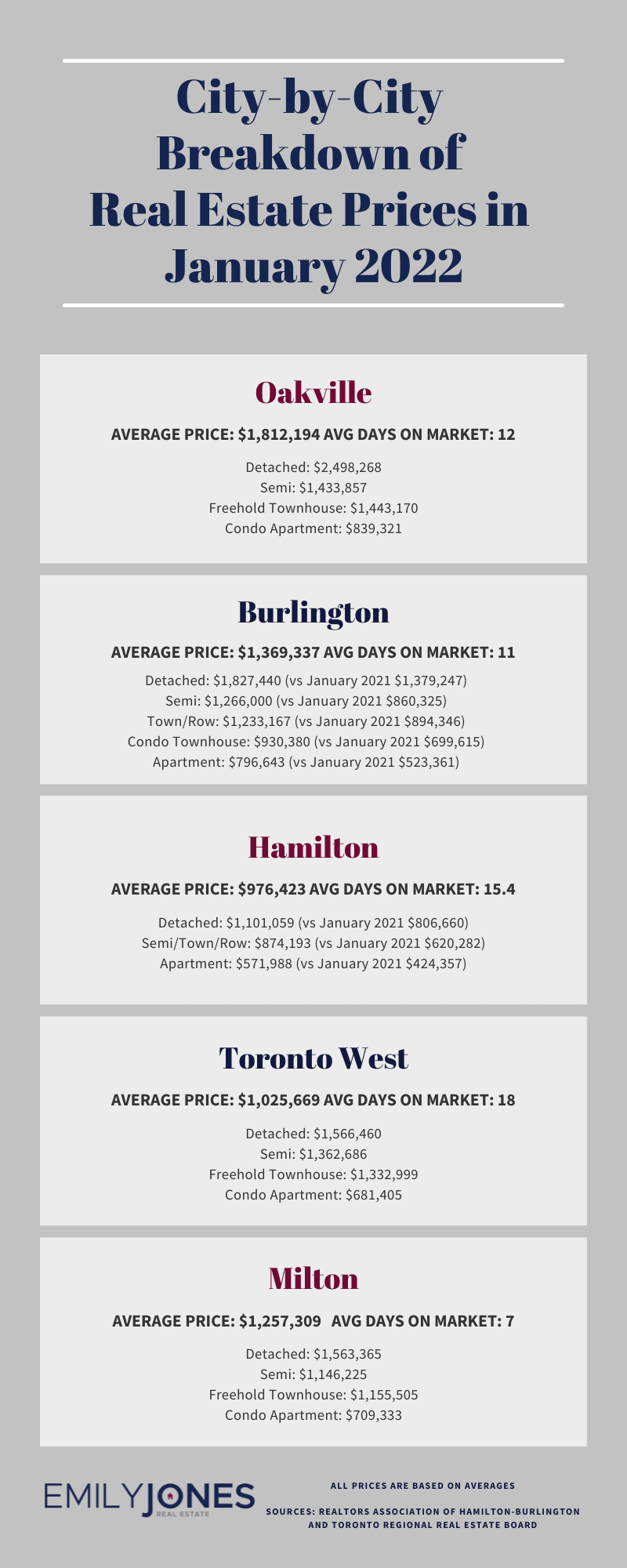 Burlington
Overall Residential Average Sale Price: $1,369,337 compared to $973,793 in January 2021
Overall Average Days on Market: 11 days
Detached: $1,827,440 (vs January 2021 $1,379,247)
Semi: $1,266,000 (vs January 2021 $860,325)
Town/Row: $1,233,167 (vs January 2021 $894,346)
Condo Townhouse: $930,380 (vs January 2021 $699,615)
Apartment: $796,643 (vs January 2021 $523,361)
Hamilton
Overall Residential Average Sale Price: $976,423 compared to $721,178 in January 2021
Overall Average Days on Market: 15.4 days
Detached: $1,101,059 (vs January 2021 $806,660)
Semi/Town/Row: $874,193 (vs January 2021 $620,282)
Apartment: $571,988 (vs January 2021 $424,357)
Oakville
Overall Residential Average Sale Price: $1,812,194
Overall Average Days on Market: 12 days
Detached: $2,498,268
Semi: $1,433,857
Freehold Townhouse: $1,443,170
Condo Apartment: $839,321
Milton
Overall Residential Average Sale Price: $1,257,309
Overall Average Days on Market: 7 days
Detached: $1,563,365
Semi: $1,146,225
Freehold Townhouse: $1,155,505
Condo Apartment: $709,333
Mississauga
Overall Residential Average Sale Price: $1,153,635
Overall Average Days on Market: 11 days
Detached: $1,964,077
Semi: $1,254,006
Freehold Townhouse: $1,212,399
Condo Apartment: $696,704
Toronto West
Overall Residential Average Sale Price: $1,025,669
Overall Average Days on Market: 18 days
Detached: $1,566,460
Semi: $1,362,686
Freehold Townhouse: $1,332,999
Condo Apartment: $681,405
Sources for Real Estate Market Update for January 2022 : Toronto Regional Real Estate Board and REALTORS® Association of Hamilton-Burlington