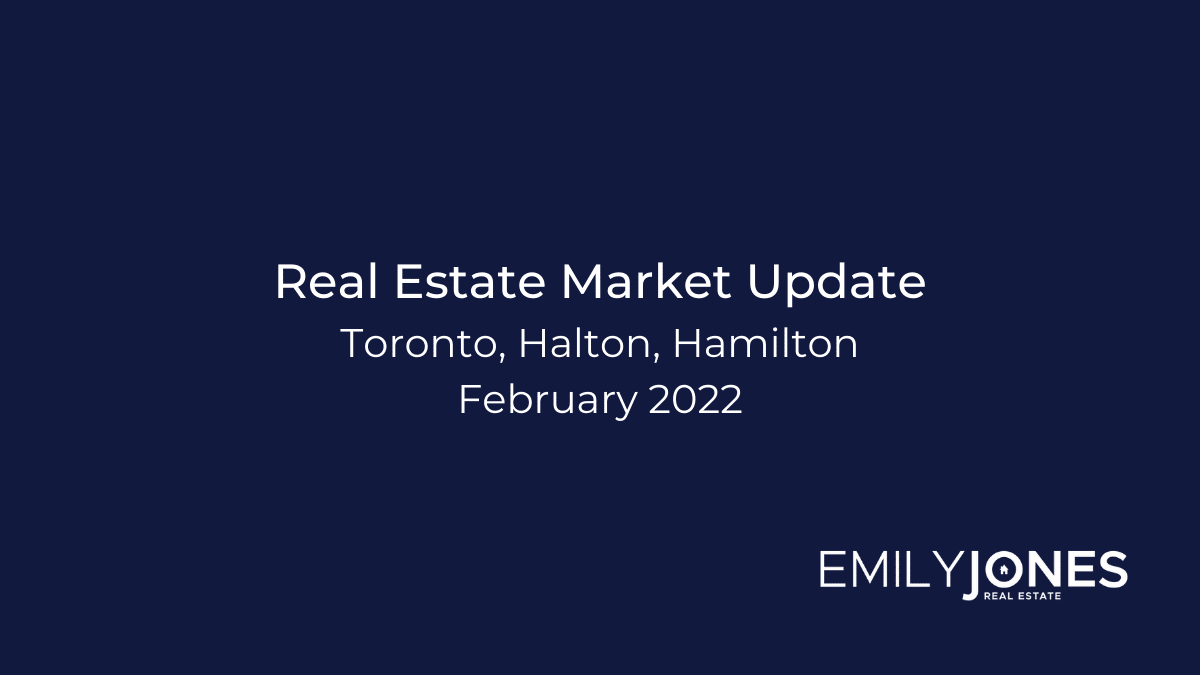 14 Mar

Real Estate Market February 2022

In February, the GTA saw home sales were down compared to the all time record in February 2021. New listings dropped, but by a marginally lesser annual rate than sales, pointing to a modest move to a slightly more balanced market. Competition between buyers remained tight enough to support double-digit price growth year-over-year.

Greater Toronto Area (GTA) REALTORS® reported 9,097 sales through the Toronto Regional Real Estate Board's (TRREB) MLS® System in February 2022, representing a 16.8% decrease in the number of sales compared to February 2021. The supply of listings for low-rise home types (detached, semi-detached and townhouses) was also down year-over-year, but not by as much as sales. In the condominium apartment segment, particularly in Toronto, new listings were up in comparison to February 2021.

"Demand for ownership housing remains strong throughout the GTA, and while we are marginally off the record pace seen last year, any buyer looking in this market is not likely to feel it with competition remaining the norm. Many households sped up their home purchase and entered into a transaction in 2021, which is one reason the number of sales were forecasted to be lower this year and a trending towards higher borrowing cost will have a moderating effect on home sales. Substantial immigration levels and a continued lack of supply, however, will have a countering effect to increasing mortgage costs," said TRREB President Kevin Crigger.

The average selling price for all home types combined was up by 27.7 per cent to $1,334,544. The pace of price growth varied by home type and region, but there was relative parity between low-rise and condominium apartment growth rates. "We have seen a slight balancing in the market so far this year, with sales dipping more than new listings. However, because inventory remains exceptionally low, it will take some time for the pace of price growth to slow. Look for a more moderate pace of price growth in the second half of 2022 as higher borrowing costs result in some households putting their home purchase on hold temporarily as they resituate themselves in the market," said TRREB Chief Market Analyst Jason Mercer.

Over in the Hamilton and Burlington areas, the REALTORS® Association of Hamilton-Burlington (RAHB) reported 1,228 sales of residential properties located within the RAHB market area through the Multiple Listing Service® (MLS®) System in February 2022. Sales were up by 71% month over month, and down by 4.4% compared to February 2021. There were 1,675 new listings in February, which was up 84.2% month over month, but compared to February 2021, there was only a 1.2% increase. The average price for residential properties across the RAHB market area was $1,104,163, which was an increase of 4.2% over the previous month, and an increase of 30.3% compared to February 2021. The inventory of listings remains low at 0.6 months – still very much in a seller's market.

"The number of sales and new listings rose substantially month over month, and kept pace with the feverish demand of February 2021. However, while the number of new listings surpassed each February over the last ten years, the demand continued to impact inventory and fuel the residential average sale price to a new record-high," says RAHB President Lou Piriano.

For a closer look at the numbers and a city by city breakdown by property type, take a look below:

Questions about buying or selling? Reach out anytime, I'd be happy to discuss the market with you!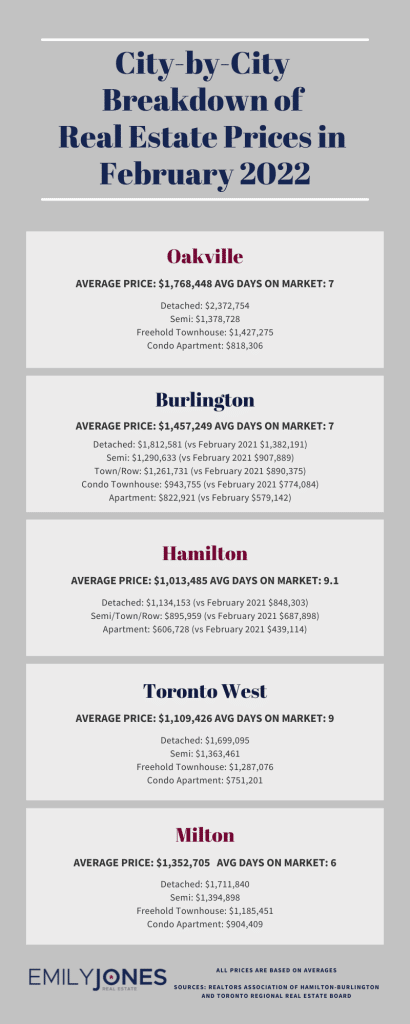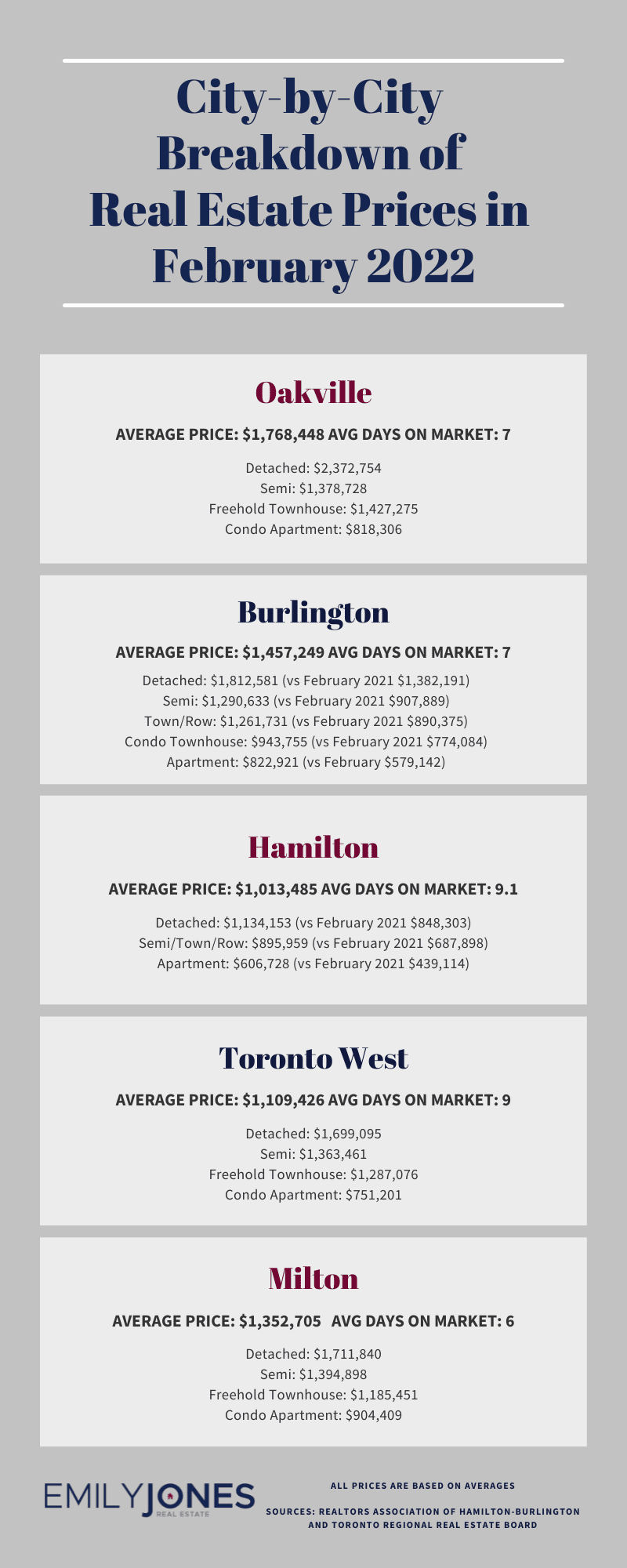 Overall Residential Average Sale Price: $1,457,249 compared to $1,065,038 in February 2021
Overall Average Days on Market: 7 days
Detached: $1,812,581 (vs February 2021 $1,382,191)
Semi: $1,290,633 (vs February 2021 $907,889)
Town/Row: $1,261,731 (vs February 2021 $890,375)
Condo Townhouse: $943,755 (vs February 2021 $774,084)
Apartment: $822,921 (vs February $579,142)
Hamilton
Overall Residential Average Sale Price: $1,013,485 compared to $773,426 in February 2021
Overall Average Days on Market: 9.1 days
Detached: $1,134,153 (vs February 2021 $848,303)
Semi/Town/Row: $895,959 (vs February 2021 $687,898)
Apartment: $606,728 (vs February 2021 $439,114)
Oakville
Overall Residential Average Sale Price: $1,768,448
Overall Average Days on Market: 7 days
Detached: $2,372,754
Semi: $1,378,728
Freehold Townhouse: $1,427,275
Condo Apartment: $818,306
Milton
Overall Residential Average Sale Price: $1,352,705
Overall Average Days on Market: 6 days
Detached: $1,711,840
Semi: $1,394,898
Freehold Townhouse: $1,185,451
Condo Apartment: $904,409
Mississauga
Overall Residential Average Sale Price: $1,225,339
Overall Average Days on Market: 7 days
Detached: $1,921,283
Semi: $1,314,703
Freehold Townhouse: $1,289,680
Condo Apartment: $736,006
Toronto West
Overall Residential Average Sale Price: $1,109,426
Overall Average Days on Market: 9 days
Detached: $1,699,095
Semi: $1,363,461
Freehold Townhouse: $1,287,076
Condo Apartment: $751,201
Sources for Real Estate Market Update for February 2022 : Toronto Regional Real Estate Board and REALTORS® Association of Hamilton-Burlington