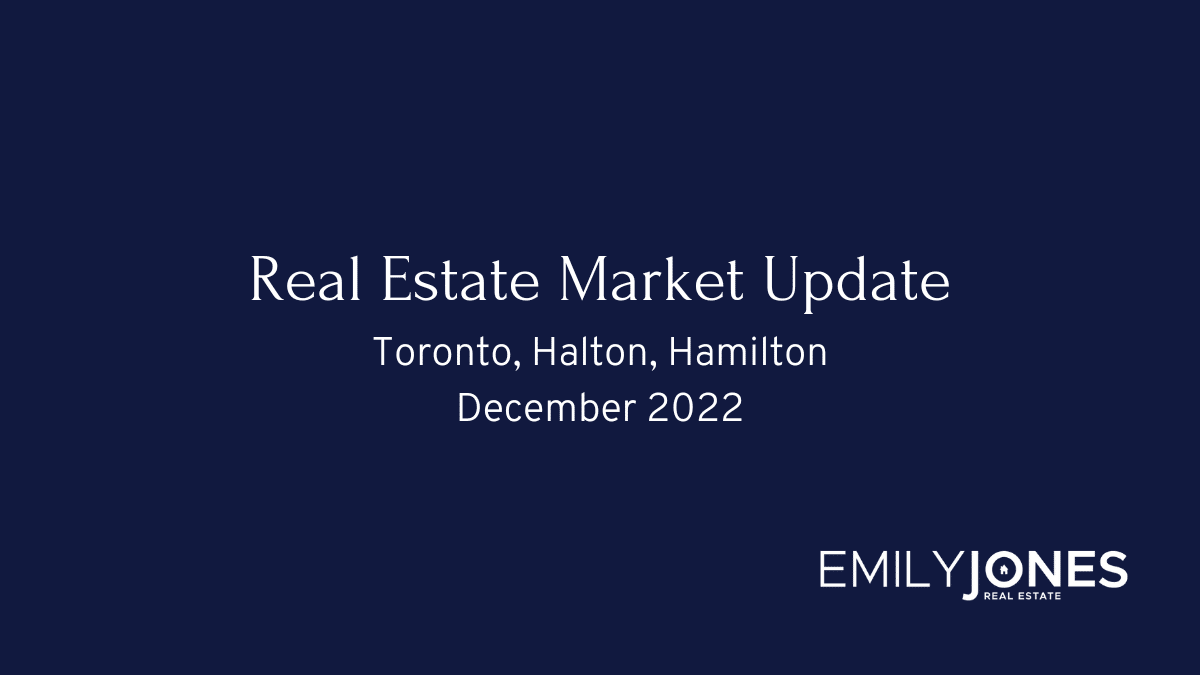 14 Jan

Real Estate Market December 2022

Your December 2022 real estate market update is here! Covering Toronto, Oakville, Burlington, Hamilton and the surrounding areas.
Highlights of the real estate market from TREBB and RAHB
The Greater Toronto Area (GTA) housing market experienced a marked adjustment in 2022 compared to record levels in 2021. Existing affordability issues brought about by a lack of housing supply were exacerbated by sustained interest rate hikes by the Bank of Canada.
"Following a very strong start to the year, home sales trended lower in the spring and summer of 2022, as aggressive Bank of Canada interest rate hikes further hampered housing affordability. With no relief from the Office of Superintendent of Financial Institutions (OSFI) mortgage stress test or other mortgage lending guidelines including amortization periods, home selling prices adjusted downward to mitigate the impact of higher mortgage rates. However, home prices started leveling off in the late summer, suggesting the aggressive early market adjustment may be coming to an end," said new Toronto Regional Real Estate Board (TRREB) President Paul Baron.
There were 75,140 sales reported through TRREBs MLS® System in 2022, down 38.2% compared to the 2021 record of 121,639. The number of new listings amounted to 152,873, down 8.2% compared to 166,600 new listings in 2021. Seasonally adjusted monthly data for sales and price data show a marked flattening of the sales and price trends since the late summer. The average selling price for 2022 was $1,189,850, up 8.6% compared to $1,095,333 in 2021. This growth was based on a strong start to the year, in terms of year-over-year price growth. The pace of growth moderated from the spring of 2022 onwards.
"While home sales and prices dominated the headlines in 2022, the supply of new listings continued to be an issue as well. The number of homes listed for sale in 2022 was down in comparison to 2021. This helps explain why selling prices have found some support in recent months. Lack of supply has also impacted the rental market. As renting has become more popular in this higher interest rate environment, tighter rental market conditions have translated into double-digit average rent increases," said TRREB Chief Market Analyst Jason Mercer.
Over in Hamilton, the REALTORS® Association of Hamilton-Burlington (RAHB) market area saw sales activity ease by 30% over the near-record highs achieved in 2021. Rising lending rates, previous price gains, and limited supply options weighed on potential purchasers. At the same time, new listings continued to grow in the region, but only for homes priced above $800,000. The pullback in sales was enough to support inventory gains across all price ranges by December. While inventories have nearly doubled, levels reported in 2022 are still nearly 20% below long-term averages for the region. Moreover, supply levels remained well below typical levels for homes priced below $600,000.
"The pandemic, combined with historically low interest rates, created an exponential surge in housing demand. Supply could not keep pace, resulting in price growth that far exceeded expectations over a two-year period," said Lou Piriano, RAHB President. "2022 saw conditions start to shift back to a more balanced market. Improved supply is an important component to stabilizing both sales and home prices."
Across the RAHB market area, easing sales and rising supply have shifted the market from the extreme sellers' market conditions at the beginning of the year to one considered relatively balanced. The shift took some pressure off home prices, which hit a record high in February but declined 25% by December. While the price adjustment within the year was significant, it is important to note that as of December, prices remain over 16% higher than pre-pandemic levels.
Questions about buying or selling? Reach out anytime, I'd be happy to discuss the market with you!
All the latest home prices and statistics by property type and city below!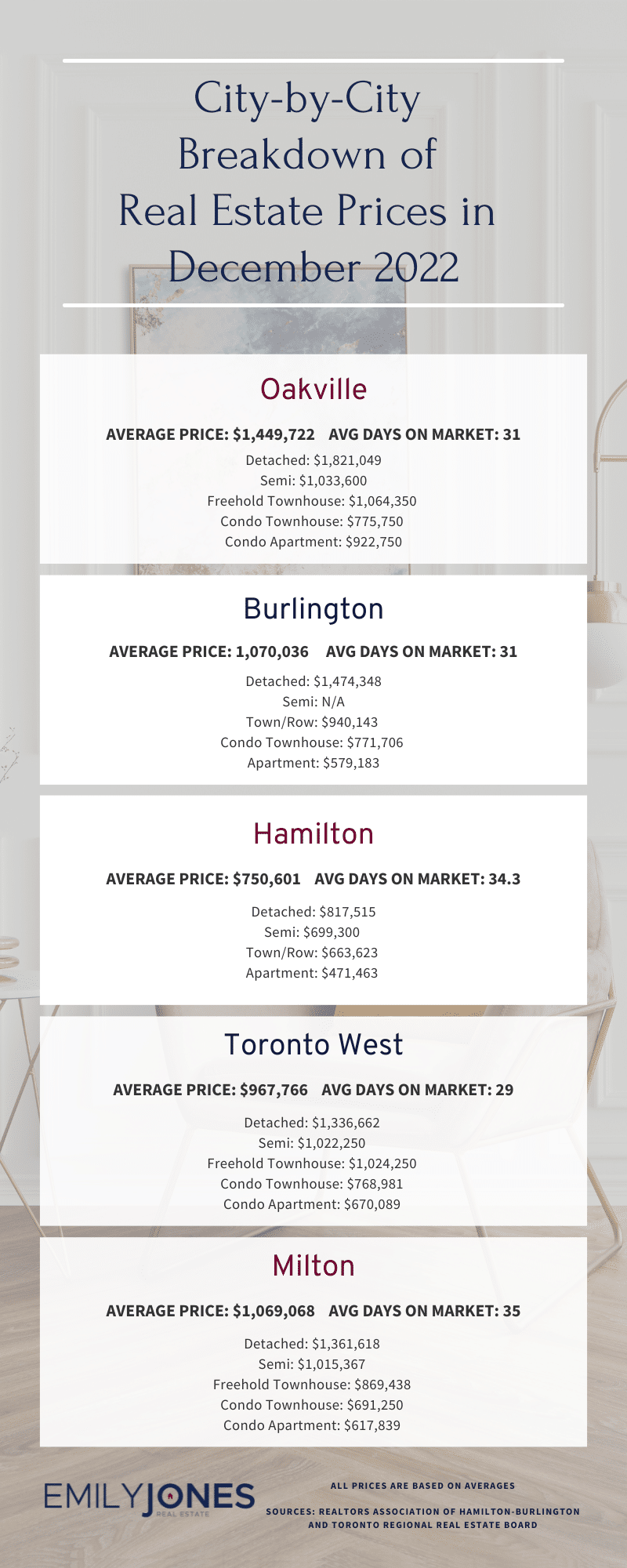 Burlington
Average Sale Price: $1,070,036 compared to $964,939 last month
Average Days on Market: 31 days
Detached: $1,474,348 (vs Nov 2022 $1,223,790)
Semi: N/A (vs Nov 2022 $908,666)
Town/Row: $940,143 (vs Nov 2022 $881,109)
Condo Townhouse: $771,706 (vs Nov 2022 $776,293)
Apartment: $579,183 (vs Nov 2022 575,815)
Hamilton
Average Sale Price: $750,601 compared to $761,244 last month
Average Days on Market: 34.3 days
Detached: $817,515 (vs Nov 2022 $819,340 )
Semi: $699,300 (vs Nov 2022 $730,805)
Town/Row: $663,623 (vs Nov 2022 $684,630)
Apartment: $471,463 (vs Nov 2022 $521,474)
Oakville
Average Sale Price: $1,449,722 compared to $1,397,718 last month
Average Days on Market: 31 days
Detached: $1,821,049 (vs Nov 2022 $1,801,813)
Semi: $1,033,600 (vs Nov 2022 $1,088,750)
Freehold Townhouse: $1,064,350 (vs Nov 2022 $1,168,160)
Condo Townhouse: $775,750 (vs Nov 2022 $935,863)
Condo Apartment: $922,750 (vs Nov 2022 $718,708)
Mississauga
Average Sale Price: $977,016 compared to $1,022,312 last month
Overall Average Days on Market: 28 days
Detached: $1,464,493 (vs Nov 2022 $1,427,501)
Semi: $964,661 (vs Nov 2022 $984,736)
Freehold Townhouse: $982,375 (vs Nov 2022 $1,115,000)
Condo Townhouse: $776,448 (vs Nov 2022 $782,442)
Condo Apartment: $612,597 (vs Nov 2022 $600,605)
Toronto West
Average Sale Price: $967,766 compared to $1,001,058 last month
Average Days on Market: 29 days
Detached: $1,336,662 (vs Nov 2022 $1,360,916)
Semi: $1,022,250 (vs Nov 2022 $1,067,023)
Freehold Townhouse: $1,024,250 (vs Nov 2022 $1,045,382)
Condo Townhouse: $768,981 (vs Nov 2022 $773,567)
Condo Apartment: $670,089 (vs Nov 2022 $634,110)
Milton
Average Sale Price: $1,069,068 compared to $1,078,240 last month
Average Days on Market: 35 days
Detached: $1,361,618 (vs Nov 2022 $1,434,733)
Semi: $1,015,367 (vs Nov 2022 $1,009,875)
Freehold Townhouse: $869,438 (vs Nov 2022 $887,717)
Condo Townhouse: $691,250 (vs Nov 2022 $686,786)
Condo Apartment: $617,839 (vs Nov 2022 $613,346)
Sources for Real Estate Market Update for December 2022 : Toronto Regional Real Estate Board and REALTORS® Association of Hamilton-Burlington