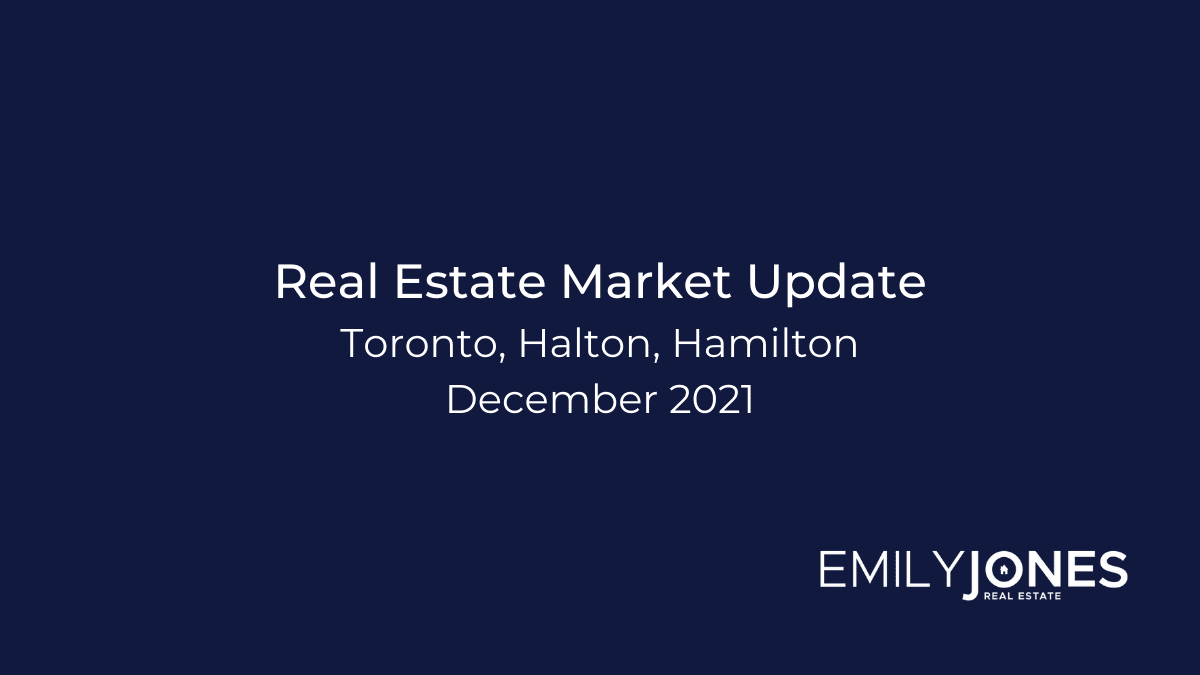 10 Jan

Real Estate Market December 2021

In TREBB, a record number of sales were reported in December. Up 7.7% from the previous high in 2016 and up 28% compared to 2020. The demand / supply ratio can be clearly seen when you look that new listings were only up 6.2% compared to 2020. This has resulted in very tight and competitive market conditions and an all-time high average selling price of $1,095,475 – an increase of 17.8% compared to the previous 2020 record of $929,636.

Looking specifically at the GTA, 6,031 sales were reported in December. A strong result historically, but still down by more than 1,000 transactions (-15.7%) compared to the record of 7,154 set in December 2020. Over the same period, new listings were down by 11.9% to 5,174.

In Hamilton-Burlington, RAHB reported 811 sales of residential properties located within the RAHB market area. Sales decreased by 32% since last month, and they were down 11% since December 2020. New listings fell by nearly 50% since last month (note there is usually a seasonal slowdown anyway) and they were also down 6% since last December. The average price for residential properties was $931,787 which was an increase of 2% from last month, and an increase of 27% from December 2020. The inventory available dropped even further to 0.4 months of inventory. This is the third month in a row we have seen consistent inventory drops in this area.

Consistently we are seeing a supply issue, the extent to which has never been seen before. Realtors and real estate boards are urging all levels of government to work together to increase supply across Ontario.

For a closer look at the numbers and a city by city breakdown by property type for December 2021, take a look below:

Questions about buying or selling? Reach out anytime, I'd be happy to discuss the market with you!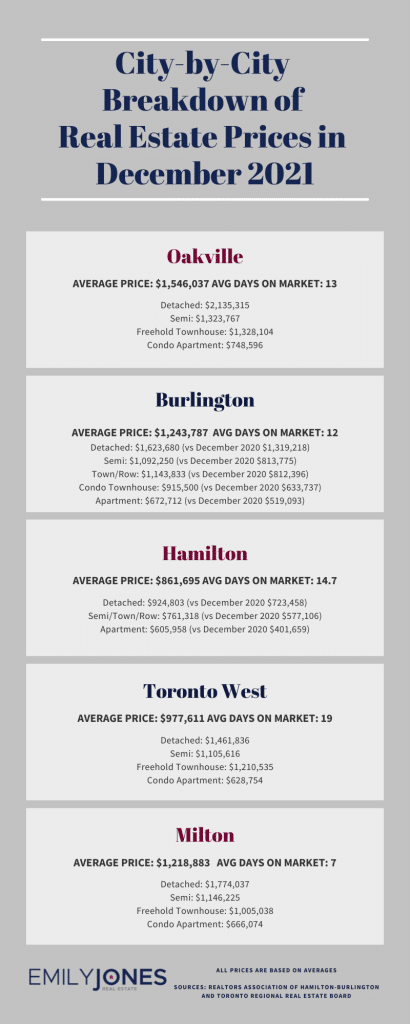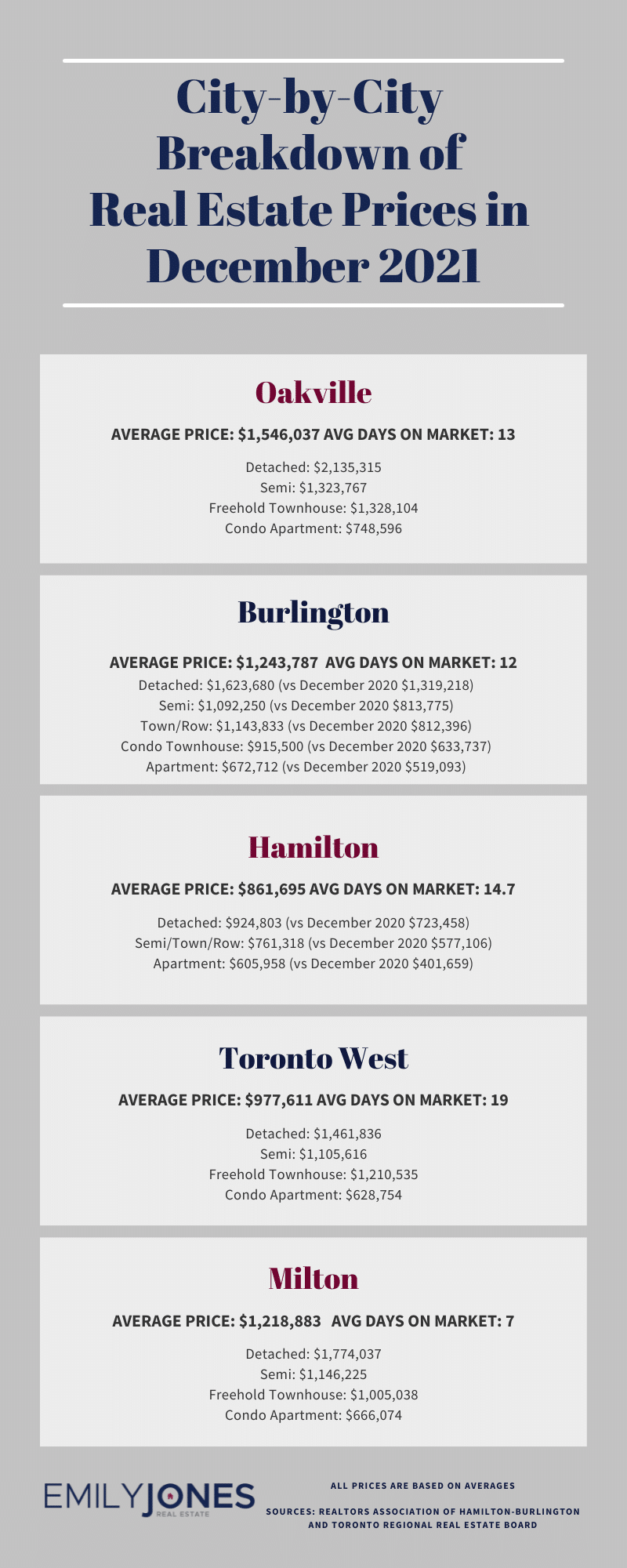 Burlington
Overall Residential Average Sale Price: $1,243,787 compared to $974,026 in December 2020
Overall Average Days on Market: 12 days
Detached: $1,623,680 (vs December 2020 $1,319,218)
Semi: $1,092,250 (vs December 2020 $813,775)
Town/Row: $1,143,833 (vs December 2020 $812,396)
Condo Townhouse: $915,500 (vs December 2020 $633,737)
Apartment: $672,712 (vs December 2020 $519,093)
Hamilton
Overall Residential Average Sale Price: $861,695 compared to $662,119 in December 2020
Overall Average Days on Market: 14.7 days
Detached: $924,803 (vs December 2020 $723,458)
Semi/Town/Row: $761,318 (vs December 2020 $577,106)
Apartment: $605,958 (vs December 2020 $401,659)
Oakville
Overall Residential Average Sale Price: $1,546,037
Overall Average Days on Market: 13 days
Detached: $2,135,315
Semi: $1,323,767
Freehold Townhouse: $1,328,104
Condo Apartment: $748,596
Milton
Overall Residential Average Sale Price: $1,218,883
Overall Average Days on Market: 7 days
Detached: $1,774,037
Semi: $1,146,225
Freehold Townhouse: $1,005,038
Condo Apartment: $666,074
Mississauga
Overall Residential Average Sale Price: $1,092,827
Overall Average Days on Market: 12 days
Detached: $1,805,290
Semi: $1,131,332
Freehold Townhouse: $1,117,743
Condo Apartment: $656,673
Toronto West
Overall Residential Average Sale Price: $977,611
Overall Average Days on Market: 19 days
Detached: $1,461,836
Semi: $1,105,616
Freehold Townhouse: $1,210,535
Condo Apartment: $628,754
Sources for Real Estate Market Update for December 2021 : Toronto Regional Real Estate Board and REALTORS® Association of Hamilton-Burlington