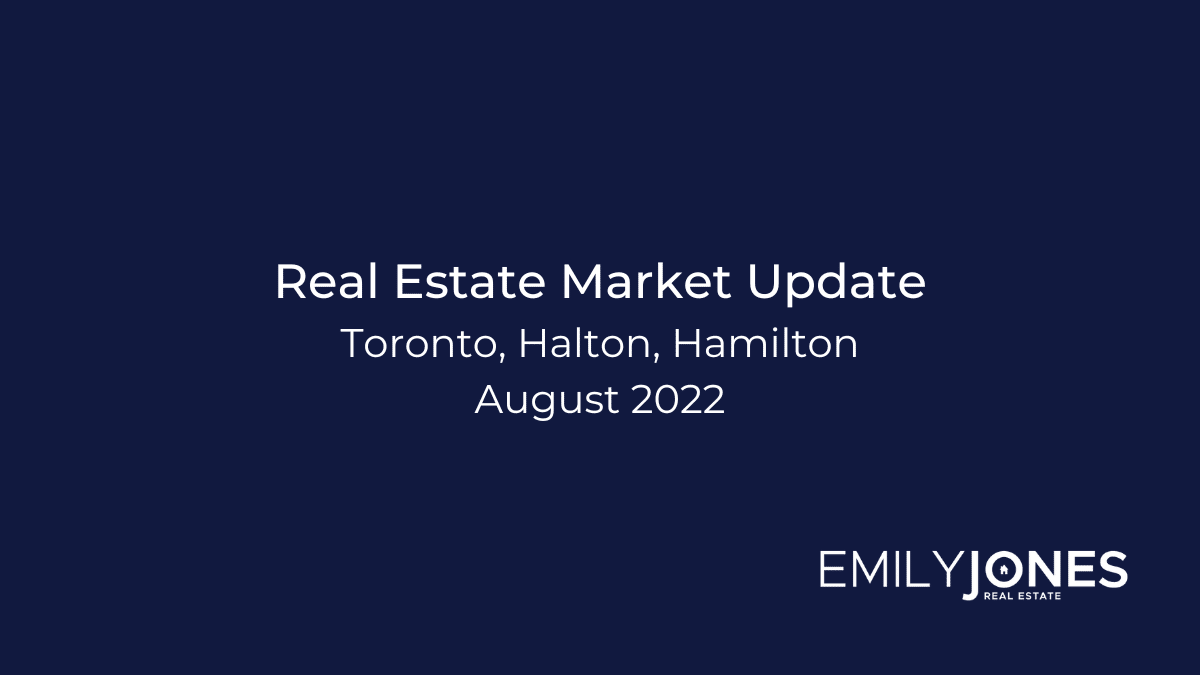 07 Sep

Real Estate Market August 2022

In the GTA, home sales reported through the Toronto Regional Real Estate Boards (TRREB) in August 2022 saw a year-over-year decline of 34.2%. On a year-over-year basis, the average selling price for all home types combined was up by 0.9% to $1,079,500. The average selling price was also up slightly month-over-month, while the HPI Composite was lower compared to July. Monthly growth in the average price versus a dip in the HPI Composite suggests a greater share of more expensive home types sold in August.

While higher borrowing costs have impacted home purchase decisions, existing homeowners nearing mortgage renewal are also facing higher costs. There is room for the federal government to provide for greater housing affordability for existing homeowners by removing the stress test when existing mortgages are switched to a new lender, allowing for greater competition in the mortgage market. Further, allowing for longer amortization periods on mortgage renewals would assist current homeowners in an inflationary environment where everyday costs have risen dramatically,= said TRREB President Kevin Crigger.

There are other issues beyond borrowing costs impacting housing affordability in the Greater Golden Horseshoe. The ability to bring on more supply is the longer-term challenge. However, we are moving in the right direction on this front. The strong mayor proposal from the province coupled with the recent commitment from Toronto Mayor John Tory to expand ownership and rental housing options are examples of this. TRREB looks forward to hearing additional initiatives from candidates vying for office in the upcoming municipal elections,= said TRREB Chief Market Analyst Jason Mercer.

Over in the Hamilton Burlington areas, The REALTORS® Association of Hamilton-Burlington (RAHB) saw a year-over-year decrease in sales by 24.2% and 11.7% increase in sales compared to July. New listings were up 20% year over year, but down 8% compared to the previous month. The average sale price for residential properties across the RAHB market area was $858,405, down 2.3% from July 2022, and up 2% compared to August 2021. There were 2.6 months of inventory* in August 2022 compared to 3.1 months in July 2022.

For a closer look at the numbers and a city-by-city breakdown by property type, take a look below:

Questions about buying or selling? Reach out anytime, I'd be happy to discuss the market with you!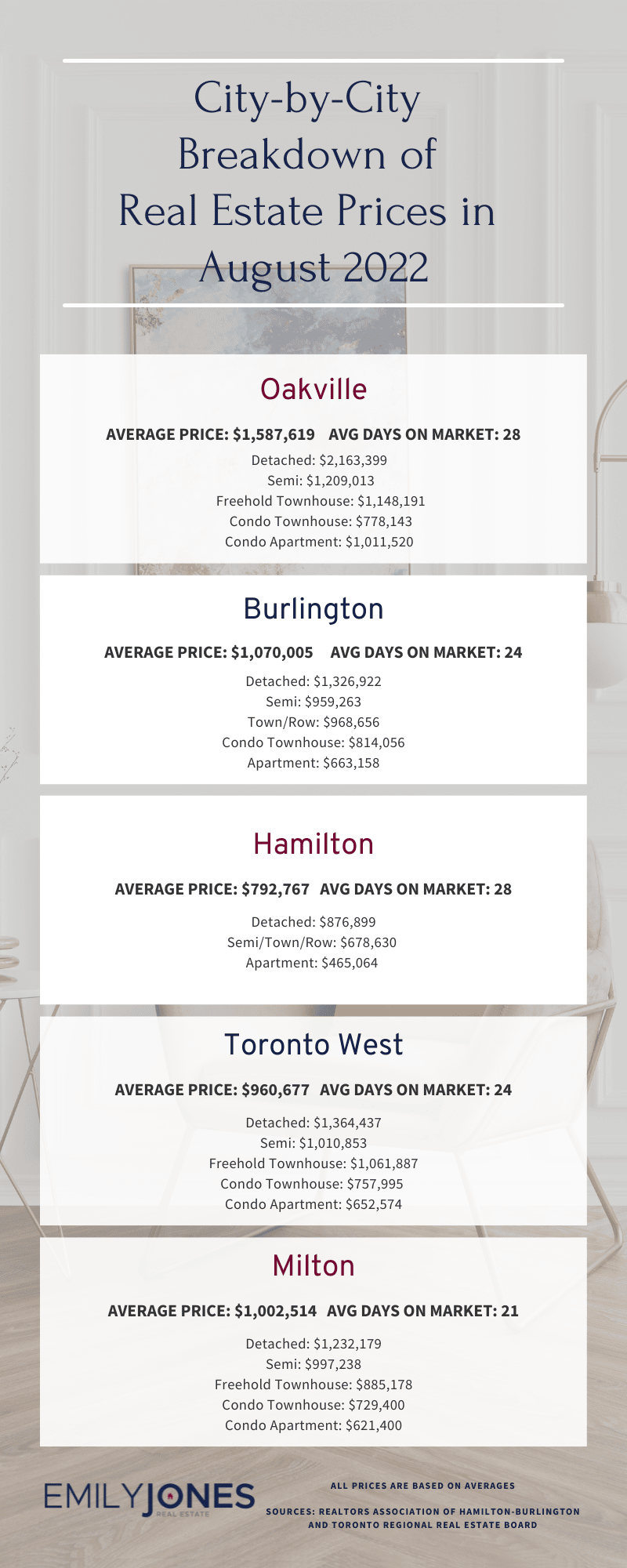 Burlington
Average Sale Price: $1,070,005 compared to $1,135,359 last month
Average Days on Market: 24 days
Detached: $1,326,922 (vs July 2022 $1,428,774)
Semi: $959,263 (vs July 2022 $923,214 )
Town/Row: $968,656 (vs July 2022 $959,154)
Condo Townhouse: $814,056 (vs July 2022 $755,670)
Apartment: $663,158 (vs July 2022 $715,531)
Hamilton
Average Sale Price: $792,767 compared to $793,062 last month
Average Days on Market: 28 days
Detached: $876,899 (vs July 2022 $861,194)
Semi/Town/Row: $678,630 (vs July 2022 $715,024)
Apartment: $465,064 (vs July 2022 $524,611)
Oakville
Average Sale Price: $1,587,619 compared to $1,524,237 last month
Average Days on Market: 28 days
Detached: $2,163,399 (vs July 2022 $2,035,091)
Semi: $1,209,013 (vs July 2022 $1,090,045)
Freehold Townhouse: $1,148,191 (vs July 2022 $1,101,040)
Condo Townhouse: $778,143 (vs July 2022 $829,093)
Condo Apartment: $1,011,520 (vs July 2022 $938,359)
Mississauga
Average Sale Price: $1,077,092 compared to $1,068,804 last month
Overall Average Days on Market: 23 days
Detached: $1,521,265 (vs July 2022 $1,589,123)
Semi: $989,240 (vs July 2022 $982,556)
Freehold Townhouse: $1,067,088 (vs July 2022 $1,005,494)
Condo Townhouse: $821,968 (vs July 2022 $798,552)
Condo Apartment: $612,804 (vs July 2022 $628,116)
Toronto West
Average Sale Price: $960,677 compared to $985,947 last month
Average Days on Market: 24 days
Detached: $1,364,437 (vs July 2022 $1,388,676)
Semi: $1,010,853 (vs July 2022 $1,099,562)
Freehold Townhouse: $1,061,887 (vs July 2022 $1,098,858)
Condo Townhouse: $757,995 (vs July 2022 $790,167)
Condo Apartment: $652,574 (vs July 2022 $664,903)
Milton
Average Sale Price: $1,002,514 compared to $1,082,214 last month
Average Days on Market: 21 days
Detached: $1,232,179 (vs July 2022 $1,313,439)
Semi: $997,238 (vs July 2022 $1,034,564)
Freehold Townhouse: $885,178 (vs July 2022 $876,817)
Condo Townhouse: $729,400 (vs July 2022 $721,475)
Condo Apartment: $621,400 (vs July 2022 $721,475)
Sources for Real Estate Market Update for August 2022 : Toronto Regional Real Estate Board and REALTORS® Association of Hamilton-Burlington