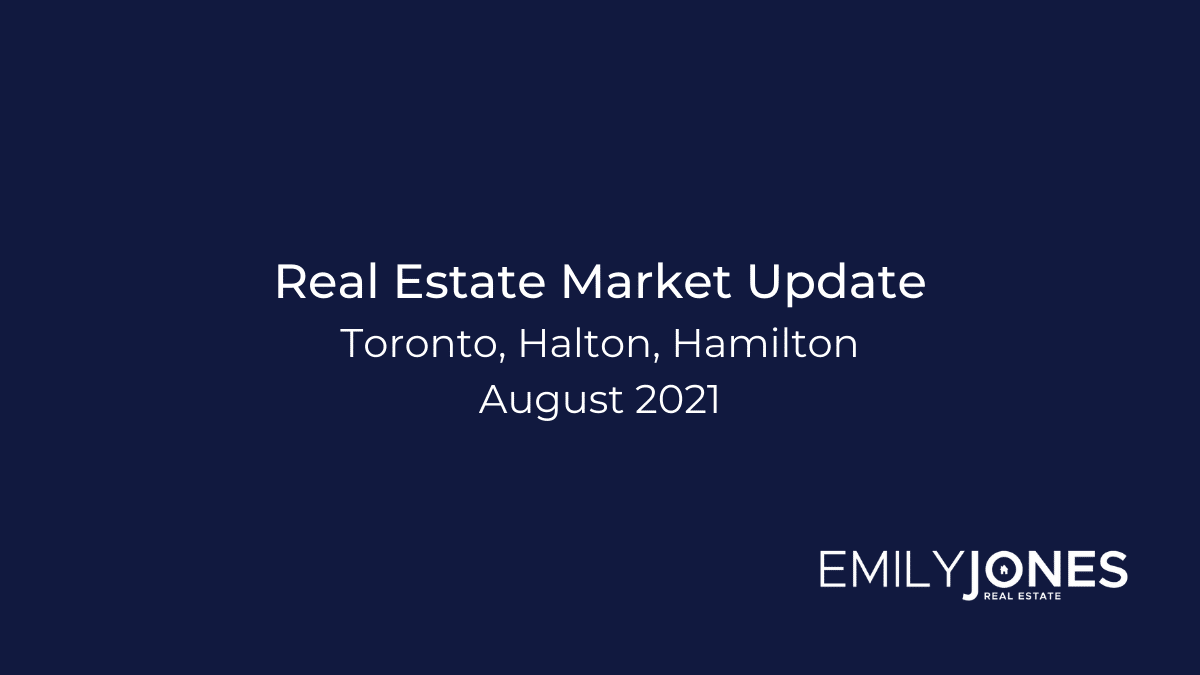 09 Sep

Real Estate Market August 2021

Here's your snapshot of the real estate market for August 2021 in Oakville, Burlington, Hamilton, Milton, Mississauga and Toronto.

We continue to see a trend across the board of vey tight inventory levels. We are seeing a year over year increase in prices of 12-21% depending on the market, driven by these low inventory levels and strong buyer demand.

As we shift towards the fall market, TRREB Chief Market Analyst Jason Mercer has this prediction: "Sales have accounted for a much higher share of new listings this year compared to last, and the story was no different in August. There has been no relief on the supply side for home buyers, in fact, competition between these buyers have increased. As we move toward 2022, expect market conditions to become tighter as population growth in the GTA starts to trend back to pre-COVID levels."

Take a look below to see how your area is performing! Questions about buying or selling? Reach out anytime, I'd be happy to discuss the market with you!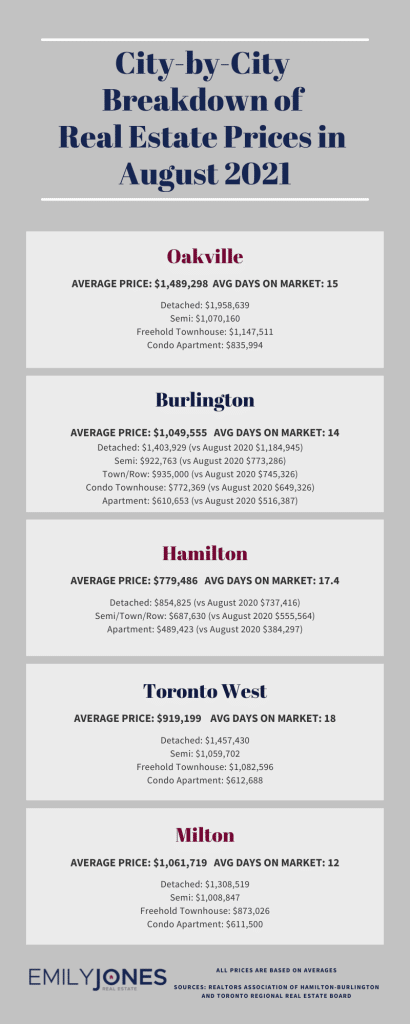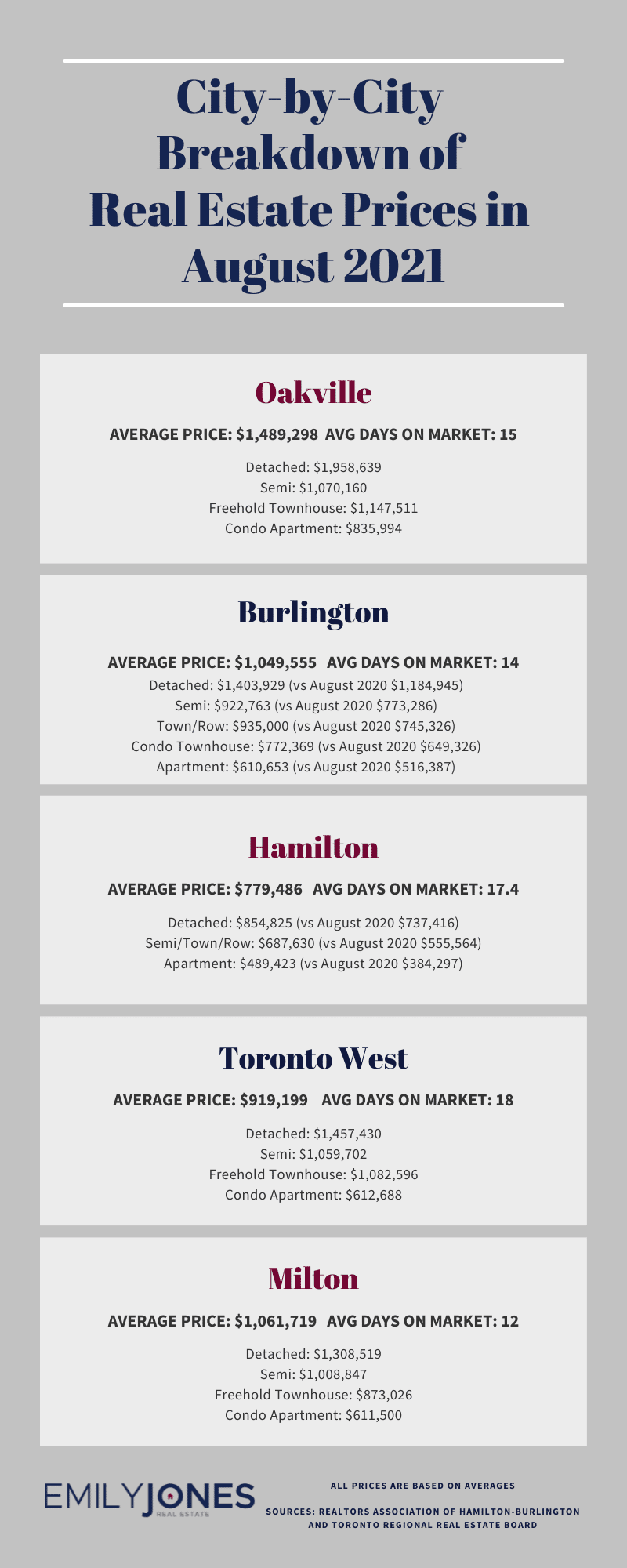 Burlington
Overall Residential Average Sale Price: $1,049,555 compared to $892,819 in August 2020
Overall Average Days on Market: 14 days
Detached: $1,403,929 (vs August 2020 $1,184,945)
Semi: $922,763 (vs August 2020 $773,286)
Town/Row: $935,000 (vs August 2020 $745,326)
Condo Townhouse: $772,369 (vs August 2020 $649,326)
Apartment: $610,653 (vs August 2020 $516,387)
Hamilton
Overall Residential Average Sale Price: $779,486 compared to $662,365 in August 2020
Overall Average Days on Market: 17.4 days
Detached: $854,825 (vs August 2020 $737,416)
Semi/Town/Row: $687,630 (vs August 2020 $555,564)
Apartment: $489,423 (vs August 2020 $384,297)
Oakville
Overall Residential Average Sale Price: $1,489,298
Overall Average Days on Market: 15 days
Detached: $1,958,639
Semi: $1,070,160
Freehold Townhouse: $1,147,511
Condo Apartment: $835,994
Milton
Overall Residential Average Sale Price: $1,061,719
Overall Average Days on Market: 12 days
Detached: $1,308,519
Semi: $1,008,847
Freehold Townhouse: $873,026
Condo Apartment: $611,500
Mississauga
Overall Residential Average Sale Price: $962,679
Overall Average Days on Market: 15 days
Detached: $1,483,197
Semi: $1,026,791
Freehold Townhouse: $965,136
Condo Apartment: $589,979
Toronto West
Overall Residential Average Sale Price: $919,199
Overall Average Days on Market: 18 days
Detached: $1,457,430
Semi: $1,059,702
Freehold Townhouse: $1,082,596
Condo Apartment: $612,688
Sources for Real Estate Market Update for August 2021 : Toronto Regional Real Estate Board and REALTORS® Association of Hamilton-Burlington