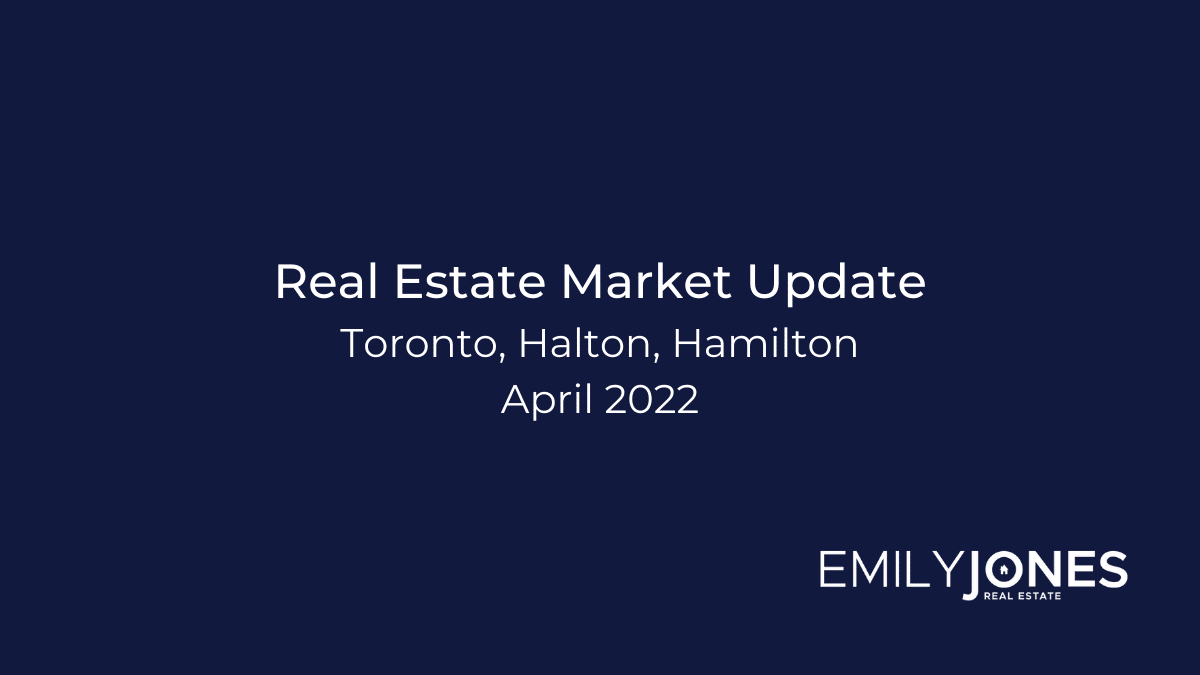 12 May

Real Estate Market April 2022

The Greater Toronto Area (GTA) housing market continued its adjustment to higher borrowing costs, with the number of transactions down on a monthly and annual basis. As has been the case with previous rate tightening cycles, some home buyers have moved to the sidelines to determine how they will reposition themselves in the marketplace given the higher rate environment and related impact on affordability.

"Based on the trends observed in the April housing market, it certainly appears that the Bank of Canada is achieving its goal of slowing consumer spending as it fights high inflation. Negotiated mortgage rates rose sharply over the past four weeks, prompting some buyers to delay their purchase. Moving forward, it will be interesting to see the balance the Bank of Canada strikes between combatting inflation versus stunting economic growth and related government revenues as we continue to recover from and pay for pandemic-related programs," said TRREB President Kevin Crigger.

GTA REALTORS® reported 8,008 homes sold through TRREB's MLS® System in April 2022 – a 41.2 per cent decrease compared to April 2021 and a 27 per cent decrease compared to March 2022. On a year-over-year basis, the decline in sales was greater in the '905' area code regions surrounding Toronto, particularly for detached houses. The average selling price, at $1,254,436, was up by 15 per cent compared to April 2021, but down compared to the average selling price of $1,300,082 in March 2022.

Over in the Hamilton-Burlington area, sales were down by 20.7 per cent month over month, and down by 31.3 per cent compared to April 2021. There were 2,451 new listings in April, which was down 3.6 per cent month over month, and compared to April 2021, there was a decrease of 7 per cent. The average sale price for residential properties across the RAHB market area was $1,013,081, which was down 5.6 per cent over the previous month, and up 18.2 per cent compared to April 2021. The inventory of listings increased to 1.2 months of inventory in April compared to 0.7 months in March.

"With the exception of last year, new listings coming to market exceed that of every other April for the last ten years. With the increase in inventory, buyers are finally experiencing more choices in the market. While inventory is still below the norm, we finally see signs of a more balanced market as the number of active listings increases," says RAHB President Lou Piriano. "The rise in interest rates has likely attributed to a decrease in the number of sales month over month in every residential property category across the RAHB market area. While average prices remain strong, and still above the $1 million mark, we did experience another dip for the second month in a row."

For a closer look at the numbers and a city by city breakdown by property type, take a look below:

Questions about buying or selling? Reach out anytime, I'd be happy to discuss the market with you!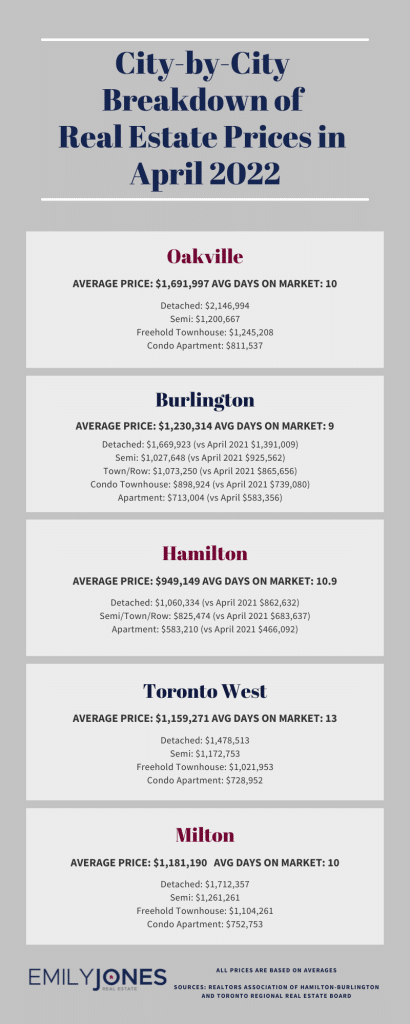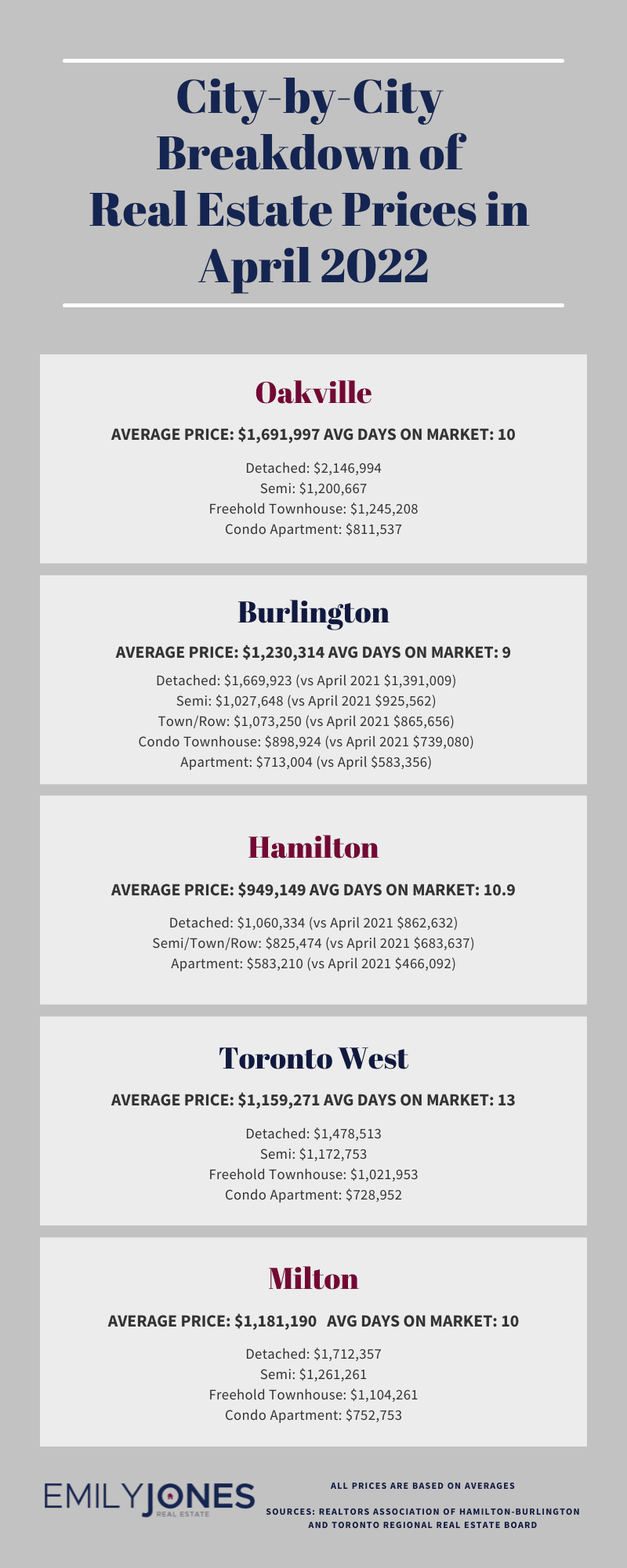 Burlington
Overall Residential Average Sale Price: $1,230,314 compared to $1,055,023 in April 2021
Overall Average Days on Market: 9 days
Detached: $1,669,923 (vs April 2021 $1,391,009)
Semi: $1,027,648 (vs April 2021 $925,562)
Town/Row: $1,073,250 (vs April 2021 $865,656)
Condo Townhouse: $898,924 (vs April 2021 $739,080)
Apartment: $713,004 (vs April $583,356)
Hamilton
Overall Residential Average Sale Price: $949,149 compared to $785,382 in April 2021
Overall Average Days on Market: 10.9 days
Detached: $1,060,334 (vs April 2021 $862,632)
Semi/Town/Row: $825,474 (vs April 2021 $683,637)
Apartment: $583,210 (vs April 2021 $466,092)
Oakville
Overall Residential Average Sale Price: $1,691,997
Overall Average Days on Market: 11 days
Detached: $2,146,994
Semi: $1,200,667
Freehold Townhouse: $1,245,208
Condo Apartment: $811,537
Milton
Overall Residential Average Sale Price: $1,181,190
Overall Average Days on Market: 10 days
Detached: $1,478,513
Semi: $1,172,753
Freehold Townhouse: $1,021,953
Condo Apartment: $728,952
Mississauga
Overall Residential Average Sale Price: $1,170,211
Overall Average Days on Market: 10 days
Detached: $1,769,358
Semi: $1,174,586
Freehold Townhouse: $1,175,353
Condo Apartment: $707,181
Toronto West
Overall Residential Average Sale Price: $1,159,271
Overall Average Days on Market: 13 days
Detached: $1,703,984
Semi: $1,293,268
Freehold Townhouse: $1,248,240
Condo Apartment: $718,647
Sources for Real Estate Market Update for April 2022 : Toronto Regional Real Estate Board and REALTORS® Association of Hamilton-Burlington