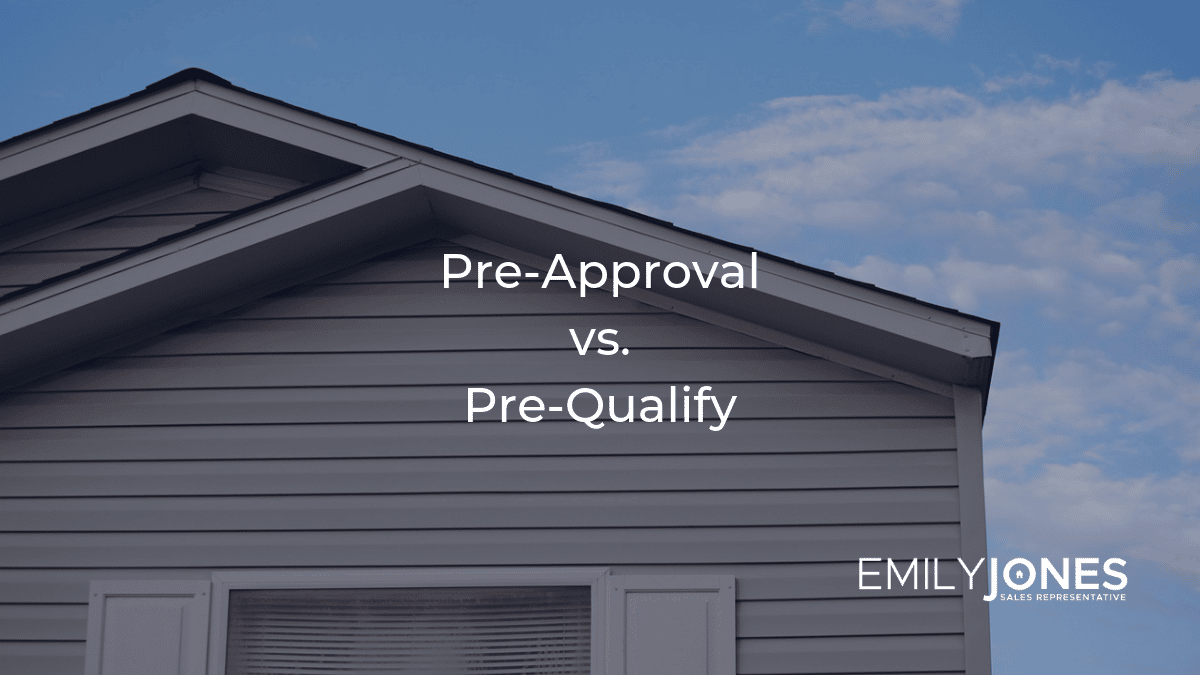 14 May

Pre-Approval vs Pre-Qualification
Pre-approval or Pre-Qualification: What's the difference?
You've heard the radio commercials right? Seen the Facebook banner ads?
"Use our online tool and find out what you could afford with our 60-second pre-qualification tool!"

"Pre-qualify for a mortgage in just 60 seconds from the comfort of your home!"

"Can't find time to go into the bank? Pre-qualify from your phone wherever you are!"
As a Realtor®, I have to say, these commercials drive me nuts. Because although I know the difference between a pre-qualification and a pre-approval, many home buyers do not. Especially if it's your first home! So let's take a look at the difference between the two.
Pre-Qualification
What is it?
As RBC says, "Your mortgage prequalification is a great first step in your home buying journey. It provides you with an estimate of how much you may be able to afford so you can set a realistic price range as you shop for a home. It is not a mortgage approval or pre-approval."
This tool will provide you with a base estimate of what you could afford. You input basic personal information including name, address, gross income. A quick check of your credit score is done as well. From this, you are given a range of what you could likely be approved for.
It's important to note that this is a very rough estimate. It does NOT take into account your individual situation.
Some of the things this will not take into account:
Your work situation. What you are approved for may vary dramatically if you are self-employed, work on commission, are on probation, or are on a contract job.
Your downpayment. The true amount you are able to put down is not clearly reflected in your pre-qualification amount. If you have approx. 10% to put down, you have no idea where you would truly fall in that affordability range.
Your existing debts. If you have a line of credit, car loan, student loans, existing mortgages, etc, those all play a role in how much you can afford and would be approved for.
Your personal situation and the specific property. So many personal variables are not taken into account for this estimate. If it's a new build, investment property, vacant land, condo with monthly maintenance fees, etc… these situations will all impact what you can afford.
Who is it for?
People at the EARLIEST stages of home buying. This base tool can be helpful to guide you on what general price range you could be looking in. However, if you are even somewhat serious about buying a home, I strongly recommend you move to a pre-approval!
Pre-Approval
What is it?
As TD puts it, a "Pre-approval means that a lender has stated in writing that you qualify for a mortgage loan based on your current income and credit history. A pre-approval usually specifies a term, interest rate and mortgage amount. A pre-approval is typically valid for a brief period of time and usually has a number of conditions that must be met."
To get a pre-approval, you often meet in person with your mortgage specialist or mortgage broker who will request a number of supporting documents from you. They will verify your credit, income, work situation, debt levels, and savings/ability to provide a downpayment. Based on the type of property you are hoping to buy, they will also discuss how that impacts the lending requirements (ie. a six unit investment property vs a first home for personal use).
You will receive a letter confirming your pre-approval, your pre-approval amount, as well as some terms, and an interest rate hold for a couple of months (the time can vary). A pre-approval is your best tool to truly understanding what you can afford.
WHO IS IT FOR?
People who are seriously thinking about buying or are ready to start searching for a home to buy. Before you start going out and looking at homes, I STRONGLY recommend that you have a pre-approval done! There is nothing worse than walking into a home you think you can afford, falling in love, and then finding out your budget isn't even close.
Avoid the disappointment of just a pre-qualification, and get a pre-approval!
---
Need help getting started? I'm happy to connect you with some wonderful mortgage brokers or mortgage specialists at the major banks. Contact me to start that conversation!