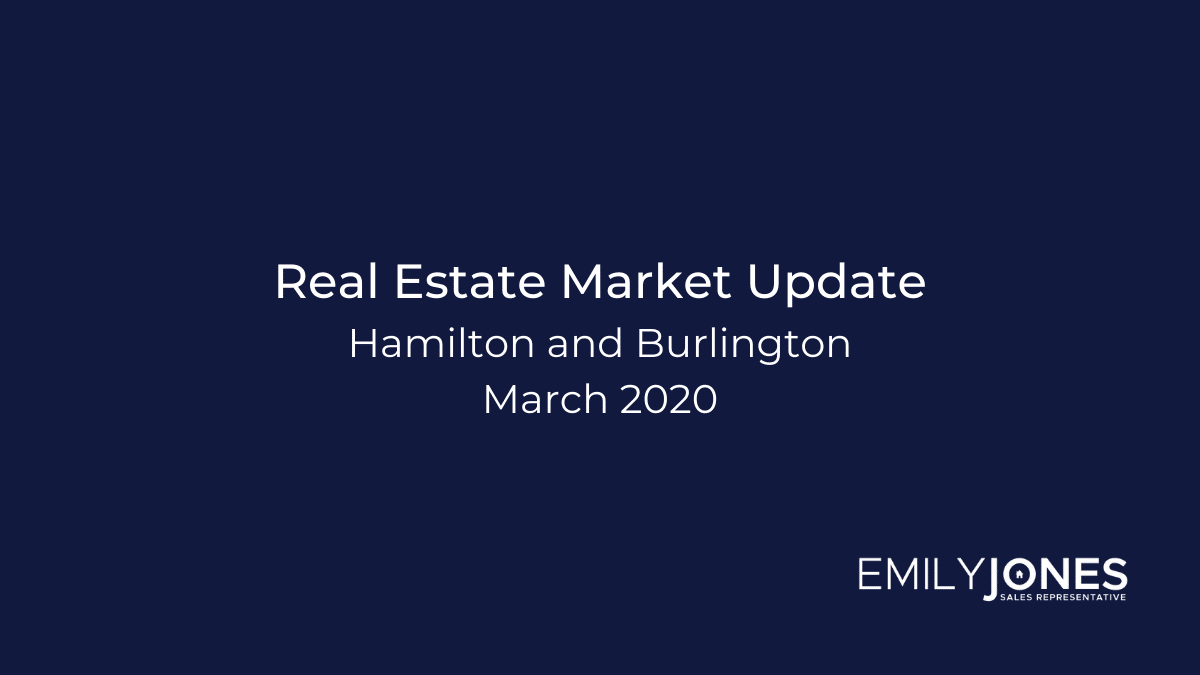 21 Apr

Hamilton Burlington Real Estate Update – March 2020
THE MARCH 2020 REAL ESTATE MARKET UPDATE AND STATISTICS FOR HAMILTON AND BURLINGTON ARE HERE!
LOOKING FOR MORE INFORMATION OR ANOTHER COMMUNITY? CONTACT ME FOR MORE.
This is an interesting month for statistics to say the least, as we are in a complicated time. Let's dive in to what data is out there for March 2020 in the Hamilton-Burlington real estate market.
In March 2020, the REALTORS® Association of Hamilton-Burlington (RAHB) reported 1098 sales of residential real estate located within the RAHB market area were processed through the Multiple Listing Service® (MLS®) System. March sales are up 10% from last month, and down 3.1% from March 2019. The average price for residential properties increased by 1.8% from last month and up 14.5% from March last year, to be $658,161.
Hamilton and Burlington Market Area Year Over Year Comparisons
A Note About Seasonally Adjusted Data
Recently, the Canadian Real Estate Association (CREA) published seasonally adjusted data from across the country. What is seasonally adjusted data you ask? "The effect of seasonal adjustment is that it reduces readings for months which normally get a seasonal lift, and boosts them for months which normally see a seasonal slump" (CREA). For example, in real estate, March usually has high sales and December usually has slower sales activity. It puts all months on the same playing field.
Seasonally adjusted data shows that the number of sales declined in the Greater Toronto Area by 20.8% from April to March. In the same comparison, sales in the Hamilton-Burlington market are down 24.9%.
"Numbers for March 2020 are a reflection of two very different realities, with most of the stronger sales and price growth recorded during the pre-COVID-19 reality which we are no longer in," said Shaun Cathcart, CREA's Senior Economist. "The numbers that matter most for understanding what follows are those from mid-March on, and things didn't really start to ratchet down until week four. Preliminary data from the first week of April suggest both sales and new listings were only about half of what would be normal for that time of year."
CREA uses seasonally adjusted data to identify larger trends in the market. For their national report, covering coast to coast and overall averages and trends, take a look here. I would caution you to take this data with a grain of salt, given that market conditions are dramatically different across the country.
A Note about COVID-19
With the situation with COVID-19 rapidly changing, statistics can only tell us to much. The market is changing quicker than many of these official statistics and reports can keep up. To understand what impact the current market has on your property or potential property (if you are hoping to buy), it's best for a personal discussion. Reach out anytime so we can discuss and I'm happy to get into the latest information with you directly!